Patrick Stewart's 'Blunt Talk' Debuts on Starz in Madcap, Irreverent Style
The first two episodes of the new series are streaming now.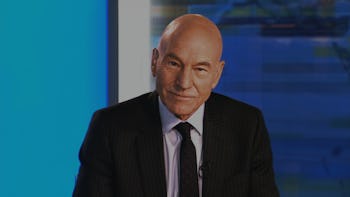 Starz
The opening image of the first episode of Blunt Talk is the back of Patrick Stewart's head. Yes, you know the bald orb well; it has shone through Star Trek: The Next Generation and a bunch of X-Men flicks. Stewart's character, Walter Blunt, is seated at a bar, getting drunk (as he does with regularity). Blunt is a renowned British newsman whose program moved Stateside five years ago and has hit the skids. Down on his luck, he turns to booze, marijuana chocolates, and even blowing coke off a picture of himself and his assistant, Harry, fighting in the Falklands War. Sometimes these coping mechanisms don't go that well — actually, they never do. Blunt staggers from the first scene into his car only to find himself suckling on the breasts of a transsexual prostitute while surrounded by cops. And so it begins.
Created and written by Jonathan Ames, the writer-essayist-performer who also helmed Bored to Death, the show takes on a similarly kooky yet literate tone. Shakespeare is quoted regularly, and discussions include the history of the British monarchy, testicular removal and rupturing, the 1977 U.S Open, Gestalt psychology, Luis Buñuel, Joe Paterno, Winnie the Pooh, and, The Once and Future King. (The Family Guy's Seth MacFarlane is an executive producer but his non sequitur absurdity rarely seeps in — blessedly — except for, perhaps, in a slapstick arrest sequence.)
The show's first two episodes follow Blunt stumbling into jams and needing the dutiful Harry (Adrian Scarborough) to bail him out. At the network, Blunt's other staffers include an easily flustered Rosalie (Jackie Weaver), whom Blunt spoons with for comfort. There's an over-sharer named Celia (Dolly Wells) and a hypochondriac, Jim (Timm Sharp), who mixes up the drugs he shares with Blunt like a pharmacological Mr. Magoo. Led by studio head Bob Gardner (Romany Malco), it's an expertly cast team. The gang cues off of one another for barbs in the way you'd imagine the show's writers did as they came up with the very material.
None of it would work without the comedic prowess of Patrick Stewart. Not necessarily known for his humorous chops, Stewart's character, here, seems to be starting where he left off, with a memorable, ribald caricature of himself on Extras.
In one bang-up scene from the first episode, Stewart shines recording emotional reactions for an interview he's about to do — with himself. Blunt, though, is a damaged soul, jealously talking about real newscasters like Charlie Rose and Bill O'Reilly, while holding out saintly reverence for Anderson Cooper. He sees a psychiatrist — played by Richard Lewis, who else? — and, near the end of the first episode, passes out during an Ambien trip where he sees Burt Lancaster flipping about in Trapeze. Then, Blunt Talk leaves you with a cliffhanger.
The second episode sees more Harry action — which is welcome — and Harry sees more action himself. Well-endowed, he's cast in a porn by Blunt's twisted neighbor (played by Brent Gelman) as a favor to borrow a filming space to fake a hurricane newscast for a flight Blunt missed because he can't be in bathrooms with other people. Right. You'll just have to see it for yourself. Blunt Talk sends up the greedy news media — at one point Gardner exclaims to Blunt, "Almost dying? Best thing you've ever done" — and takes aim at life's more pessimistic moments. Revitalized by a second chance, Blunt tells his team, "Start Googling and find out if there is any hope out there that might also be true!" Well, Blunt Talk is now on the air. That's true.
Blunt Talk episodes 1 and 2 are available to watch now here. The first episode premieres on Starz this Saturday at 9 p.m. Eastern/Pacific.