Future Bus Concept: Autonomy and A.I. Could Enable 'More Luxurious' Rides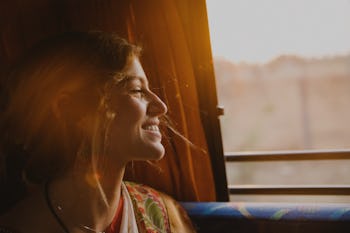 Unsplash / Church of the King
The bus of the future could offer something altogether more "luxurious" for passengers, a leading coach service claims. Megabus worked with artist Muti to envision what the bus of 2040 looks like, and it features a dazzling mix of A.I., autonomy, and even an on-board robot serving drinks.
"As our coach of the future predicts, the industry will become more luxurious for passengers, while retaining a price point that represents greater value than other modes," Mark Venables, managing director of Megabus.com, tells Inverse. "As a result, coach travel will become an ever more attractive choice for people who don't normally consider it when compared to expensive train travel and stressful car driving."
It's a far cry from the no-frills trips that many travelers experience today, but Megabus U.K.'s prediction is based on the fact that autonomous technologies are set to become widespread throughout the automotive industry, making their adoption almost inevitable. The coach is expected to offer an all-electric design, topped up by solar panels similar to Sono Motors' Sion. The exterior will include an array of cameras, similar to Tesla's suite of sensors. Passengers automatically check-in using their smartphone, and their luggage handled by a robotic arm. The diagram depicts a human driver, as current British law requires a human in the driving seat.
Other ideas are more ambitious. The bus features wheels on extendable legs to drive over traffic, similar to China's failed straddle bus. There's also a robot called "Sid" to help people with their journey.
While the automotive industry focuses on autonomous cars and personal vehicles, Venables sees a place for the self-driving bus in the coming years. Research is underway on bringing these vehicles to the road: Volvo debuted a 36-seater test vehicle in Singapore last month, while a mini-shuttle in Las Vegas started ferrying smaller groups last year.
"Coach popularity is growing rapidly and over the coming decades," Venables says. "We expect it to be increasingly in demand with people who don't normally consider the coach as an option."
The Megabus concept envisions an individual pod with doors for every passenger. These can be customized to cover business, a gym, showers, and a bar with drinks served by a robot.
These pods could offer virtual reality that gives passengers more information about their journey, while also offering entertainment. Syncing up with the onboard GPS, the coach can alert a smart home when the passenger is almost home. The seat belt can even track biometrics, similar to an Apple Watch.
The vision covers a dizzying array of ideas, but it does highlight a number of unique possibilities. People taking the coach in future could expect greater autonomy, reduced emissions and smarter service through technologies that look set to make a breakthrough over the coming years.
"As fashions change towards sustainable travel and adventure on your doorstep, we expect the trend for domestic holidays to continue," Venables says. "Coach travel offers a cost-effective, easy way of getting a family to your holiday destination, to visit friends in other cities or to see relatives without the added cost and hassle of a car."
Perhaps you won't need to take a Tesla robo-taxi after all.