Hugh Masekela: 5 Perfect Songs That Sum Up the Jazz Innovator's Story
"I want to lend a hand — send me."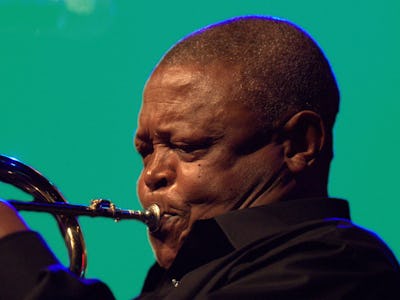 Inverse photo illustration. Original photo by Tom Beetz/Flickr
The great South African jazz musician Hugh Masekela was honored with a Google Doodle on Thursday, which would have been his 80th birthday. A marvelously gifted trumpeter, composer, singer, and sometimes rapper, Masekela is known for creating a unique jazz style that incorporates African musical influences and songs that faithfully tell African stories with apartheid South Africa as the grim backdrop.
"Bra Hugh," as he's known in South Africa, was given his first trumpet by the anti-apartheid activist Archbishop Trevor Huddleston, and soon became part of the backbone of the Afro-jazz scene, writing songs about the plight of black South Africans under an increasingly brutal and exploitative regime. Masekela began his 30-year exile from home following the Sharpeville massacre of March 1960, when 69 anti-apartheid protestors were shot dead.
Away from home, Masekela continued to develop his talents at music schools in both London and New York, all the while bringing the story of apartheid South Africa to the rest of the world through his increasingly popular music.
He returned home in September 1990, writing in his biography about the moment he was through with airport customs: "When I came out, a chorus of roars and ululations pierced the air."
Below are five songs that turned him into a national hero in South Africa, as well as a jazz icon for the world.
1. "Bring Him Back Home (Nelson Mandela)"
This funky, anti-apartheid anthem, released as the first track on Masekela's 1987 album Tomorrow, made his stance on the oppressive regime clear: "Bring back Nelson Mandela / Bring him back home to Soweto / I want to see him walking down the streets of South Africa tomorrow!" Between these lines, Masekela's triumphant trumpet lines ring clear.
"I want to see him walking down the streets of South Africa tomorrow!"
When this song was released, Mandela had already been imprisoned for 25 years after being arrested for conspiring to overthrow the state government in 1962. Masekela wrote the song to honor Mandela, a living example of a black South African suffering under the apartheid government. "Mandela was the symbol. He was the voice of all those people," Masekela told NPR in 2014.
2. "Grazing in the Grass"
Driven by Masekela's signature trumpet and punctuated liberally with cowbells, the instrumental "Grazing in the Grass" was a number-one hit on the United States Billboard pop charts in July 1968, beating out Gary Puckett and the Union Gap's "Lady Willpower" and even "Jumpin' Jack Flash" by the Rolling Stones for the top slot.
It's said that the song was inspired by a novelty record that Masekela had bought years before, in Zambia, called "Mr. Bull #5," and that he included it on his debut album only to fill time.
In 1969, the Friends of Distinction added lyrics to the song, increasing its popularity even further. His biography, published in 1994, is entitled Still Grazing: The Musical Journey of Hugh Masekela.
3. "Chileshe"
The sultry trumpet solo that opens the 1998 song "Chileshe" gives way to Masekela's voice, calling on black and other non-white South Africans, made to feel like strangers in their own land by a government that exploited and excluded them, not to forget their sense of self. In one translation of the song, he says: "Don't let them call you a foreigner, you too are a person."
"They too are people."
He also firmly reminds the Boers, a name for the Dutch-descended whites in South Africa: "They too are people."
4. "Stimela (The Coal Train)"
Opening with increasingly thunderous percussion meant to evoke the speeding of a train, "Stimela" is somber where Masekela's other songs are jubilant. Released in 1974 on the album I Am Not Afraid, it begins with Masekela listing all the cities and villages that the Stimela — the coal train — stopped in to pick up African workers to work in Johannesburg's mineral mines "sixteen hours or more a day / For almost no pay."
"'Stimela' reminds everyone that South Africa's wealth and infrastructure was built on the back of labour from all over Africa," writes University of Fort Hare professor Andries Bezuidenhout, Ph.D., in The Conversation.
Masekela, he points out, was born in Witbank, a coal mining area of South Africa, and raised by a grandmother who ran an illegal bar for mineworkers.
5. "Thuma Mina"
With echoes of American gospel, a pairing of bluesy vocals and trumpet, "Thuma Mina" — Xhosa for "Send Me" — brought into stark relief the challenges facing South Africa. It was released as part of the album Send Me in 2002, eight years after South Africa gained a democratic government. Though apartheid was over, the nation still had many ills to deal with: poverty, aids, alcoholism, drugs, violence, and abuse, all listed in the song.
Hoping to ward off disillusion during a difficult transition period, Masekela offers a symbolic message of hope: "I want to lend a hand — send me."