Hugh Masekela: One Piece of Advice Miles Davis Gave Him Changed Everything
The musical legend was celebrated in a Google Doodle.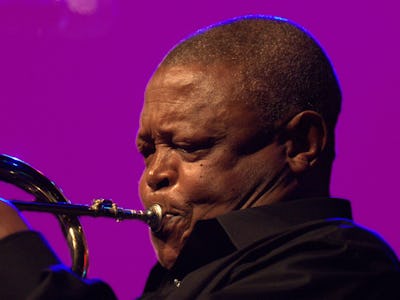 Inverse photo illustration. Original photo by Tom Beetz/Flickr
Google celebrated the life of Hugh Masekela on Thursday, the innovative trumpet player who found fame performing with the first all-black jazz band to record an album in South Africa.
Masekela was born in Witbank, a coal mining town in South Africa, on this day in 1939. He was raised by his grandmother, who ran a bar for the local workers. Hearing the songs of miners inspired him, and he had already begun piano lessons and singing when he went to secondary school at the age of 12.
Less than a year after his band, the "Jazz Epistles," recorded their first album, the apartheid government introduced new measures that forced them to leave the country. When he was 21 years old, Masekela relocated to New York, where he attended the Manhattan School of Music. During his 30 years in exile, he met jazz legends like John Coltrane and Max Roach. But it was perhaps the words of Miles Davis that helped shape his future trajectory most.
"You're just going to be a statistic if you play jazz," Davis said to him, "but if you put in some of the stuff you remember from South Africa, you'll be different from everybody."
He recorded his first album, Trumpet Africaine, in 1963. It was swiftly followed the next year by Grrr. Masekela weaved sounds from his home country into his work, calling on the marabi instrumental style.
Masekela noted that Davis encouraged him to pursue his own style. In a 2004 interview with The Guardian, Masekela reminisced how Davis had told him "in his gravelly voice, 'Hugh, you're a real motherfucker. You should just do your own thing.' He took a keen interest in what was going on in South Africa, as did Louis Armstrong, actually."
The advice was fondly remembered by Davis, who wrote in his biography: "Every time I saw Hugh, I told him to just keep on doing his own thing rather than trying to play what we were playing over here. After a while I think he started listening to me, because his playing got better."
Masekela eventually returned home in 1990, after Nelson Mandela was released from prison. He passed away in 2018, remembered as an influential musician who helped shape the genre.
It's not the first time Google has paid tribute to a musical legend. Previous doodles have commemorated bluegrass musician Earl Scruggs, Prince, and conducting legend Leonard Bernstein. And a recent A.I.-powered doodle enabled users to create their own songs in the style of composer Johann Sebastian Bach.