Earl Scruggs: 5 Iconic Songs From the Innovative Bluegrass Musician
Google is celebrating the late, great bluegrass musician today. Here are five songs you have to hear.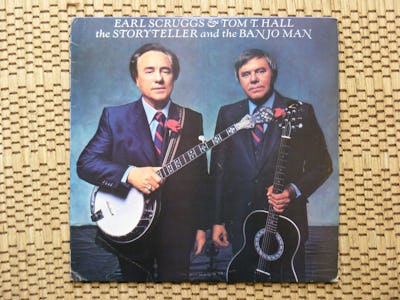 Flickr / sludgegulper
If you went on Google to look up reviews for The Punisher Season 2 today, you may have noticed a Stetson-wearing fella who looks an awful lot like an NPC from Red Dead Redemption 2. Today, Google is celebrating the late, great bluegrass musician Earl Scruggs, whose innovative three-finger "Scruggs style" profoundly influenced bluegrass music for decades to come.
And his influence is everywhere: Scruggs' music has been in movies, television, and immortalized in the National Recording Registry maintained by the Library of Congress. In fact, the name "bluegrass" comes from Scruggs himself. At the age of 21, Scruggs was part of the Blue Grass Boys with musician Bill Monroe, whose popularity became synonymous with the genre (like "Jell-O" for gelatin).
Scruggs is perhaps best known for his greatest innovation: Scruggs style.
Before Scruggs, most banjo players played "clawhammer," an older, "down-picking" style that characterized a lot of folk and country music. Clawhammer has its fans — Neil Young and comedian Steve Martin are some of them — but Scruggs style, characterized by the use of the thumb, index, and middle finger, was game-changing, like scratching on turntables creating hip-hop. Scruggs style allowed banjo players a lot more range, allowing the banjo to be its own instrument rather than a complimentary piece.
Over 50 albums, four Grammys, one Grammy Lifetime Achievement Award, a star on the Hollywood Walk of Fame, a National Heritage Fellowship by the National Endowment for the Arts, and one amazing spoof on The Office all amount to a spectacular career.
After Scruggs died at the age of 88 in 2012, his hometown of Shelby, North Carolina, became the location for the Earl Scruggs Center, a lavish $5.5 million facility that houses Scruggs' music and serves as an education center for visiting students.
Here are five songs from Scruggs, all of which make use of his genre-defining technique.
5. "The Ballad of Jed Clampett" (1962)
When Scruggs teamed up with Lester Flatt to form the Foggy Mountain Boys, they composed the single "The Ballad of Jed Clampett," better recognized as the theme song for the TV sitcom The Beverly Hillbillies.
As one of the most popular TV shows in history, its theme song has been spoofed and homaged plenty of times, from "Weird Al" Yankovic to Saturday Night Live, to former President Bill Clinton all doing their own renditions.
4. "Foggy Mountain Breakdown" (1950)
First recorded on December 11, 1949, during Scruggs' Foggy Mountain Boys era, "Foggy Mountain Breakdown" is one of the most recognizable pieces of bluegrass music that it's mainly a teaching song for many guitar and mandolin players. The song became ubiquitous after it was included in the 1967 blockbuster Bonnie & Clyde. You've definitely heard it before.
3. "Blue Moon of Kentucky" (1946)
When Scruggs joined the Blue Grass Boys, he began incorporating his three-finger style into recordings such as "Blue Moon of Kentucky," now the official bluegrass song for the state of Kentucky. The song is recognized as a "bluegrass waltz."
2. "Dueling Banjos" (1973)
While the more popular, original "Dueling Banjos" from 1954 was heard in the 1972 horror film Deliverance, Scruggs teamed up with Randy Scruggs, Gary Scruggs, Vassar Clements, Josh Graves, Chip Young, and Jody Maphis for his own rendition. Scruggs' version is a lot more chill and less nerve-wracking than Arthur Smith's original. Seriously: Listen to the original while playing Far Cry 5 and try not to get chills.
1. "Same Old Train" (1998)
At 8.3 million plays on Spotify, "Same Old Train" is the most popular song on which Scruggs appears. Released in 1998, the song is an all-star line-up, with Scruggs joining Dwight Yoakam, Travis Tritt, Randy Travis, Pam Tillis, Marty Stuart, Ricky Skaggs, Patty Loveless, Alison Krauss, Emmylou Harris, Merle Haggard, and Joe Diffie.
This was like the Avengers: Infinity War of bluegrass, and there Scruggs was, the Iron Man of this whole thing.