The Best Marvel Dog Accessories
Seriously, these are so good.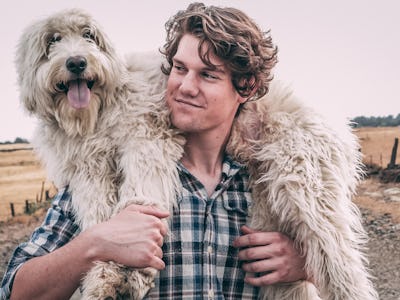 Unsplash / Jordan Koons
Are you trying to include your dog in your Marvel fandom and wondering if we have suggestions for accessories to get you off on the right foot? Thank goodness because we do. There are many options available (actually more than we thought possible), so we aren't going to waste time with a giant introduction. It's simple: Dog + Marvel = Life Changing Joy. Let's do it.
A collar is the best place to start, of course. two collars for your dog, and we would would have agreed with you 5 minutes ago too. Do you see that seat belt buckle? It gives us the feels to see an old 80's middle seatbelt buckle used for such noble dog purposes now. This collar has Thor, The Hulk, Iron Man, Captain America, and Spider Man, and comes in a range of sizes and styles to fit your pooch.
This harness comes in either a Spiderman or Captain America design, and it's made of high-quality, lightweight fabric (read: your dog will actually want to wear it). There is a nice mesh lining to keep your dog feeling cool in the summer, as well as looking cool.
Marvel Comics Avengers Tank Dogs](https://www.amazon.com/Marvel-Comics-Avengers-Tank-Small/dp/B07FPQ4CZV/)
Custom Logo Dog Pet ID Tag Bone Shape Personalized](https://www.amazon.com/Avengers-Spider-Man-Captain-Personalized-avengers/dp/B07491MS8M)
This aluminum pet ID tag can go on the collar or harness listed above for double fandom, or on your standard harness you already have. You can pick one of eight different designs, including the Avengers. There is also Captain America, and The Hulk. Dimensions of the tag are 1.5" x 1" x 0.45"
There are four options for this fun, canvas-and-rope dog toy: Choose from Captain America, Hulk, Iron Man or Spiderman. Toy does have a squeaker in it to add even more interest for you pup-pup (and annoyance for you).
Yes. Dogs don't always love costumes, but we believe that is because they don't like what the costume represents. Find me a dog that doesn't like what this costume represents, and we'll find you a dog that lies like, well, like a dog (thanks folks, we'll be here all week). Get this now at a great price and be ready when Halloween comes around, too.
Oh, my goodness. Guys! We can't even. How do you look at this Hulk muscle costume for dogs and not be happy to be alive in a time such as this? What could be better? This costume comes in sizes Small all the way to XXX-Large, so no excuses.
Spoil that puppy dog with a Spiderman Knot Buddy. The knots help the dog to get a grip while playing a good game of tug with you. You get the comfort of knowing that a superhero knot buddy is watching over your dog while you are at work during the day.
Choose from four designs and two sizes in these stylish bandanas for your dog to wear over it's collar. The bandana is made of super soft fabric, and it's comfortable. Around here, we like to think of a bandana as cape that was thrown in the dryer and shrank. So it's basically a tiny cape for your pupper, right?