These Cheap Wireless Earbuds Are a Great AirPod Alternative
Allure of AirPods for a fraction of the price.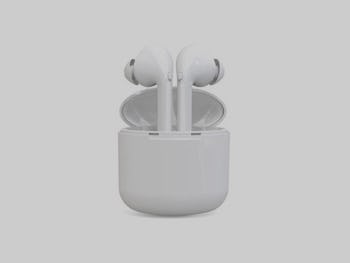 Inverse
Move over, AirPods, there's another clone in town that is too good to pass up. The aptly-named AirDops True Wireless Earbuds are just a fraction of the cost of Apple's $200 headphones, so listen up.
These bad boys also ship with the latest Bluetooth standard (Bluetooth 5, if you aren't keeping track), which is nice to see, as many cheaper AirPod alternatives tend to use lower standards like Bluetooth 4.2. You can continue to use the earbuds up to 33 feet away from the connected device, which is impressive but we wouldn't expect the purest of clarity in these situations.
As far as internals are concerned, outside of the Bluetooth 5.0 goodness, it's a standard affair, which isn't a terrible thing! Each earbud has a 65mAh battery inside, which should be good for 3 hours of music playback and the 400 mAh charging case should add about 8 hours of additional juice. Charging the buds should take you about an hour and the case about 2 hours.
In addition to the AirDops earbuds and charging case, you'll also get a micro USB to USB charging cable, 3 sets of ear tips and a user guide. Since these are Bluetooth headphones, you can also pair them to Siri or whatever voice assistant that comes with your phone.
Let's not get anything mixed up. These are a no-frills version of Apple's AirPods, but considering you can buy nearly 7 pairs of these for the same price as one pair of the latest version of AirPods with charging case, it certainly makes you appreciate their value.