The 'Attack on Titan' Movies Have a U.S. and Canada Release Date
The land of the free will be overrun.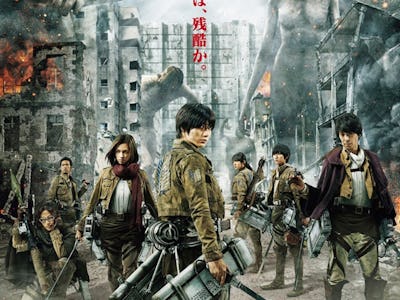 Toho Co. Ltd.
The live-action Attack on Titan movies, Parts 1 and 2, will be making their way to good ol' North America in a limited theatrical run this fall. Part 1 will be released September 30, and Part 2 on October 20. There's even a trailer!
Not since the anime craze of the late 90s has there been such a monster hit series — the manga have sold 30 million copies in total, so there's an audience. It's not getting a Marvel-wide release, since the brand recognition is still niche, but it beats scouring anime conventions for an expensive Region 2 DVD a year from now.
Produced by Toho and directed by Shinji Higuchi, Attack on Titan is a dark fantasy/apocalyptic horror about the last remnants of humanity surviving against gargantuan, humanoid beasts known as "titans" that feed off humans. The series, elegantly haunting and heartbreaking, is unlike most stereotypical anime — no schoolgirls and tentacles here. The film lit up the Japanese box office in its debut weekend in July, but its critical reaction has been flat.
Locations to watch the movie stateside are still TBA.