'Apex Legends' Season 2 Battle Pass, Release Date, Time, and New Characters
'Apex Legends' might further resemble 'Fortnite' in Season 2.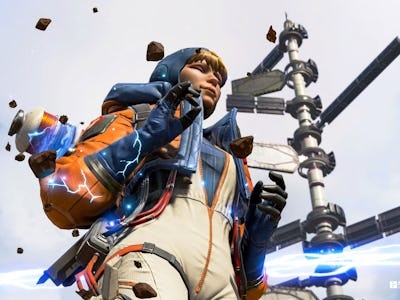 Respawn Entertainment
Respawn Entertainment's Apex Legends took the world by storm with its surprise release in February, hitting more than 50 million players within the first month. The game's burgeoning community waned slightly after Season 1 launched in March, but Respawn hopes to rekindle some enthusiasm with a revamped Season 2.
What does the future of Apex Legends have in store for gamers, especially with Season 2?
Shortly after Apex Legends' official launch, executive producer Drew McCoy penned a letter to fans and confirmed the game would include Fortnite-style seasons and a battle pass system. That proved true when Season 1 began in March, and even though the battle pass rewards proved a bit underwhelming, Season 2 is going to change the way Apex Legends uses cosmetic rewards by incorporating daily and weekly challenges.
Here's everything you need to know about Apex Legends Season 2, including the projected start date and time, cost of the battle pass, characters, and so much more.
When Is the Apex Legends Season 1 End Date?
In an official Q&A about the Season 1 battle pass, Respawn wrote, "Each season will run for approximately three months." If Season 1 had run for exactly three months, then it would have ended on June 19 at 1 p.m. Eastern. However, Season 1 began on a Tuesday, so Season 1 officially ended on June 18 instead, when the Legendary Hunt event also ended.
When Is the Apex Legends Season 2 Start Date?
During an EA Play event in Los Angeles, Respawn Entertainment announced that Season 2 would launch on July 2.
What time will that happen? We don't know for sure, but the common guess is that Season 2 will launch right at 1 p.m. Eastern, when most updates to the game go live.
What Is the Apex Legends Season 2 Theme?
Season 1's theme was "Wild Frontier" and introduced players to a new Legend called Octane. Season 2's theme will be "Battle Charge," seemingly tied to the new character Natalie "Wattson" Paquette who uses electrified fences to damage and slow enemies.
Is the trend that each season's theme ties directly to the new playable characters introduced? That seems to be the case.
Will Apex Legends Season 2 Include Map Changes?
The core of Fortnite's seasonal battle pass structure rekindles fan interest by changing the map at the start of each season. There have been meteor strikes and volcanic eruptions that destroyed portions of the map, and one time a small iceberg crashed into the main island.
While Apex Legends Season 1 was still running, giant Leviathans began circling the waters around the island and smaller Flyers began flying around. These dragon creatures could play a larger role in Season 2, especially after the Season 2 launch trailer showed the destruction of a disruptor tower that kept the beasts at bay.
Will Apex Legends Season 2 Have Challenges?
Apex Legends Season 1 didn't include any kind of challenges like the ones Fortnite offers each week, and Respawn Entertainment has confirmed all of that will change in Season 2.
The Legendary Hunt event that ran from June 4 to 18 featured challenges with exclusive rewards. Once Season 2 officially starts on July 2, there'll be daily and weekly challenges waiting for players.
A post on the Apex Legends subreddit from the game's community manager confirmed new details about how the Season 2 battle pass integrates challenges:
"While we don't want to introduce wacky challenges that drastically warp the way you play the game, these challenges should provide some interesting variation from game-to-game," they wrote. "This means all players should feel more rapid Battle Pass progression and the journey will hopefully be more fun and interesting. Also, this addition should allow players who can only dedicate a few hours a week to the game to make a very deep cut into their Battle Pass progression."
Just like in Fortnite, the driving purpose behind such challenges is advancement in the battle pass.
What's Included in Apex Legends Season 2 Battle Pass?
Season 1 had more than 100 unique items, so it's expected that Season 2 will follow suit, offering a mix of quips, weapon skins, and other cosmetic items that'll never appear in the game again.
The Season 2 battle pass will have more legendary-rarity items, no badges or basic stat trackers, and items from "three new content categories" that have yet to be revealed. Respawn has listened to feedback about how underwhelming the Season 1 battle pass was to some players, so the rewards should be more enticing this time around.
Will Apex Legends Season 2 Include New Characters?
Yes!
New characters, called "Legends," are added to Apex Legends on an ongoing basis separate but simultaneous with each season's battle pass. Octane was released the same day as Season 1, and Season 2 will introduce Wattson
Various leaks and theories have long suggested that the second new character would be a female character named Wattson who has electric abilities, and that turned out to be absolutely true. She should be available in the game when Season 2 begins July 2.
Other leaks and rumors indicate that Season 2 could include a second new legend named Crypto. He'd be some kind of hacker with a sword that can jam enemy abilities. Crypto was featured in the Season 2 launch trailer, but his face was never shown. He could be released later in Season 2, or Respawn is teasing him as the Season 3 hero several months from now.
Does Apex Legends Season 2 Have New Weapons?
Yes. On June 18, Respawn Entertainment released a trailer teasing a new legendary weapon for Apex Legends Season 2 called the L-STAR.
It's described as "a rare and powerful LMG" that "fires large, high-damage plasma projectiles at a fast cyclic rate." The ammo type is listed as "experimental," so once the three 60-round magazines are empty, that's it. Sustaining firing causes the weapon to overheat — so it's a good thing that most enemies go down fairly quickly.
In addition, Season 2 will also include a variety of weapon balancing changes that we'll learn more about as the season gets closer.
How Much Does the Apex Legends Season 2 Battle Pass Cost?
Respawn officially confirmed in a blog post shortly begore the beginning of Season 1 that the battle pass would cost 950 Apex Coins, roughly $9.50. But for 2,800 Apex Coins, players can get the battle pass and automatically unlock the first 25 levels. There's no reason to believe the price will change in Season 2.
Apex Legends is currently available on PC via Origin, PlayStation 4, and Xbox One.