iMac 2019: Price, Release Date, Specs for Apple's Powerful Desktop
It's been a long time coming.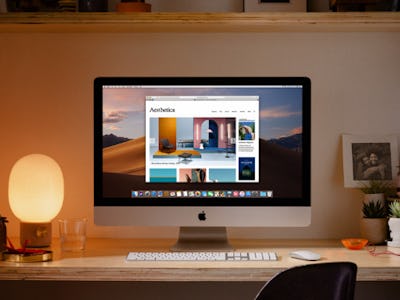 Apple
In rapid succession, Apple has announced a long-awaited update to its iMacs, all-in-one desktop computers on Tuesday to go along side two new iPads it dropped Monday.
The 2019 computer is unrecognizable from what was first unveiled in 1998, but most of its improvements have come under the hood since 2012. This release has once again just upped its computing power without tweaking its aesthetic.
Apple's announcement brought five new desktop variants — two 21.5-inch and three 27-inch iMacs — with slightly differing specs. Most notably are the computer's new set of chips that Apple promises will deliver twice the graphical and computational power.
All five models house Intel processors and AMD GPUs, offering a much-needed refresh to its internals, which haven't seen a significant update for almost two years. Every model in the line-up comes with a four-figure price tag and can quickly surpass $5,000 with feature add-ons.
The 21.5-inch models keep their 4K Retina display and the larger models also keep the 5K screen. It's the silicon that's slotted inside of the 2019's iPads that sets them apart.
2019 iMacs: Price and Are They Worth It?
The most affordable 21.5-inch 2019 iMac starts at $1,299, while the baseline 27-inch model will run customers $1,799.
Both desktops can be spec'd-out to cost more than double their original price. A full-feature 21.5-incher can hit $3,349, and if customers choose to add accessories – like Apple's Magic Mouse — and pre-installed software the price begins to inch toward $4,000.
The larger model's price can also handily double base cost, with a few additions. A 27-inch iMac will run customers $5,249, and an additional $600 can be added on top of that if they want accessories and software.
The iMac's defining trait is that it packs all of its components inside of a display. There's no chassis that holds its internals like a traditional PC. This makes it well-suited for creatives, designers, and engineers who are strapped for space at home or in an office but still need computing power.
But if space isn't an issue and you're looking for is power, you might want to wait for a Mac Pro update or build a custom PC. Since everything inside of an iMac is so compact, there's a chance that the higher-powered models will suffer in performance compared to more traditional computer set ups.
Apple has experienced performance issues with MacBook Pro performance in the past, because the laptop's small chassis wasn't able to cool the powerful processors appropriately. More space equals better cooling and the result is beefier specs, so keep that in mind if you're toying with the idea of dropping $5,000 on an iMac.
2019 iMacs: Release Date
All five models became available for order on Apple's online store on Tuesday, March 19. If you'd rather pick one up in person, you'll have to wait until the week of March 25 for the iMacs to hit stores.
2019 iMacs: Specs
The two variants of the 21.5-inch iMac come with the same 4K, 4,096-by-2,304 resolution display but with two very different set of internals:
They feature either an eighth-generation quad-core i3 or six-core i5 processor and either a Radeon Pro 555X GPU or a Radeon Pro 560X respectively, with 8GB of RAM each. Users who want more power can level -up to the21.5-inch iMac with an i7 processor, 32GB of RAM, and a Radeon Pro Vega 20 graphics card.
The three 27-inch iMacs pack a little bit more punch off of the bat and offer beastly upgrades:
The two slightly cheaper variants start with a Intel's six-core eighth-gen i5 processor, while the most expensive version packs the the latest ninth—gen processor. The GPUs on the default models are: are the Radeon Pro 570X, 575X, and 580X.
All of these specs can be seriously stepped up. The highest end model offered can be upgraded to have an Intel i9 processor that can be overclocked to a blazing fast 5.0GHz, 64GB of RAM, and 2TB of internal memory. All of that comes at a pretty penny of course.
You'll only want to pick up cutting-edge internals like that if you're creating graphically intensive 3D models or multiplying thousands of matrices on a daily basis.