9 Storage Solutions That Will Make Your Home Instantly More Organized
De-stress when you de-clutter.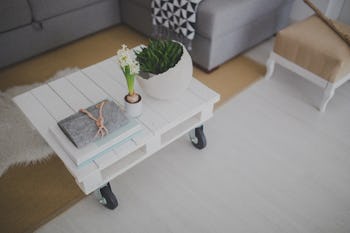 Photo by Kaboompics .com from Pexels
Whether you're going through a bout of spring cleaning after watching Tidying Up with Marie Kondo or you're just looking to make your home feel a bit more organized, there are plenty of ways you can do so on both a small and large scale. Organization doesn't just mean you put things out of sight until you need them next, it means your items should go in places that make sense and are neatly organized so you can find them without wasting time rummaging.
Here are a few products to check out that can help you achieve a level of organization that'll make even Marie Kondo proud.
These easy-to-assemble storage units can make your living room really pop and will store plenty of odds and ends. With a simple yet stylish appearance, you can use them as a bookcase, to hold DVDs, store games… lots of options. Another great thing about them is that you can buy a few units and stack them on top of each other for extra storage.
If you don't have a ton of space in your home for larger storage units, then you might want to look at a door or wall mount as an option. The Simplehouseware has four large pockets that store anything from pet or kid toys to small towels and accessories. Stick it in your bathroom or hang it on a closet door and feel the stress of an untidy home lift from your shoulders.
Bulking up your record collection but running out of room for all the LPs? Get yourself this chic LP storage cabinet to solve that problem. One of the most appealing parts of this unit is that you can open the doors and see all your records neatly organized—perfect for grabbing the record that will make or break your party (and also for showing off your entire collection to friends).
This nine-piece set of woven baskets will help you store things of all sizes and will look snappy in the process. The matching baskets are an added extra to make your organization feel even neater. They're perfect for linens, blankets, clothing, office supplies, and that Housefish storage unit you were just looking at. ;)
Want to take your neatness with you on the go? With The Ultimate Travel Organizer, you can vacation in organized style. It makes it so the smaller items you've packed for a trip—the ones that tend to get lost in suitcases or lay forgotten in the bottom of a backpack—are easy to find a compact bag full of zippered compartments. Additionally, it also comes with a laundry bag.
The Yamazaki drawer organizer puts a modern twist on a classic organizational item by making it expandable. With this extra feature, you can move the drawer organizer around so that it can fit in different drawers, whether you need it for the kitchen, bathroom, or an office. There's an additional sliding drawer on the top that's perfect for smaller items as well.
It's easy for a bathroom space to get messy quickly, especially since there are so many tiny toiletries floating around at any given time. A specific organizer for your toiletries might be exactly what you need to fix that problem. The organizer from Tooletries attaches to any shiny surface in the bathroom, whether that's a bathroom tile or mirror. If you do put it in your shower or bathtub area, you also don't have to worry about it collecting water and getting moldy because it has a built-in drainage system.
Want to keep your various USB cords organized rather than inevitably forming a messy clump in a drawer? The Twist Plus World Charging Station is great to keep in your office, especially if you have multiple things you need to charge or keep plugged in, and is also great for travel. It makes it so you don't need to carry multiple chargers on you and cuts down the clutter of having a bunch of wires that you can hardly remember the original purpose of.
One of the most common messes is having a bunch of coins laying all over the place, from the tops of dressers to kitchen tables to desk surfaces to between couch cushions. Wouldn't it be great to have a small container with a magnetic top where you could easily put all your coins? Well, with the Mordeco storage bowl, you can keep your loose change in one place so that it doesn't get all over the place.
Nicole Ortiz is a seasoned writer and editor based in Brooklyn, NY. You can see samples of her work on her portfolio, and you can follow her on Twitter.