6 Cable Boxes That Will Make Your Apartment Look 1,000 Times Better
Keep those cords out of sight.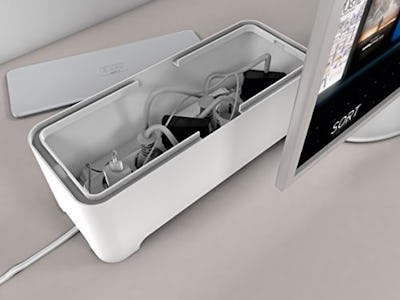 Amazon
We all love electronics, but the mess of cables and cords that sprawl around behind and between them? Those are just ugly (and possibly dangerous if you have pets or kids). And it's not so safe for the cords, either when they're all tangled up, collecting dust and exposed to spills.
The smart move for you and your cords is to get a cable box. Below you'll find six options to help you get rid of the giant black spaghetti creeping over your walls and floors. Everyone's happier when they're organized and out of sight
Hide Cords in Plain View
This box is big enough for two power strips and all the power cords that go with them, but the rounded edges and natural bamboo this box look more like a home accent than a cord-hider. The box has two cord exits, so you can use it vertically or horizontally, and the four holes on the bottom are designed for wall installation.
Why we chose it. This is the box you don't mind displaying out in the open because it's so good looking. If you prefer to mix up the wood look, you can select a black box with bamboo lid. If you're worried about little hands getting into your cable box, this Teyga model comes with a magnetic lid for extra safety.
White All the Way
The Go-Oblong cable box is designed with safety in mind—for you and your cables. The locking lid is child resistant to keep pets and toddlers from grabbing the cables, and there's an inner raised plate to protect your cables from spills.
Why we chose it. The Apple-inspired design is simple and elegant, and the slim size (less than six inches deep) means you can tuck this box behind a screen or along the wall. You can also charge you phone on top of the charger cable organizer.
A High-end Look
The CordOrgz box is large enough to hold a power strip and all the cords that plug into it. The large U-shaped cord slots on either end make it easy to drop in a fully loaded strip without unplugging and replugging everything, so there's no excuse not to use it right away.
Why we chose it. The leather-look exterior with white stitching makes it look classic and appropriate for living room or office. This sturdy box has enough weight that it won't slide around, either.
The Box that Says Modern Design
Designed in Japan, this clean, modern-looking box will blend into the background or look like an accent piece, depending on where you put it. It's big enough to hold multiple cords and a power strip with up to seven outlets.
Why we chose it. When it comes to cleanup, nothing beats plastic. You can wipe dust and spills away while keeping your cables tangle free. And the sleek design offers understated style.
A Big Box Solution
With its large size (more than 15 inches long and 7 inches high), this box will hold a multitude of power strips, cords, and adapters. It also has three wire slots to improve functionality, while the bamboo exterior and angled legs give it the vibe of a midcentury curio.
Why we chose it. This is one of the most spacious boxes we've seen, offering plenty of room to hide all those wires and surge protectors that are creating havoc in the living room. It's only fair to warn you, however, that this is an IKEA-style DIY project, so if you're not handy with a screwdriver, it might not be the answer for your wiry mess.
Great Choice for Home or Travel
With adjustable compartments and a stackable design, this Bento-box inspired cord-hider is made specifically for Apple accessories. It comes with four adjustable compartment dividers and two silicone straps, and accommodates wall plugs for the US, Canada, Mexico, Japan, China and Thailand.
Why we chose it. OK, we're stretching the definition of "cable box" a little here, but you won't find a cuter or more functional way to store all your iStuff. It also allows you to pack a lot of accessories in a very compact space—and when you travel, it's easy to fit into a larger bag.