3 High-Quality Weighted Blankets (at 3 Price Points)
Ease your nighttime anxiety with one of these.
by Monique Vitche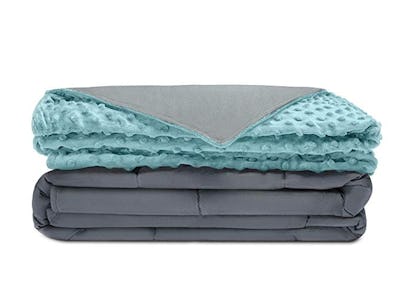 Amazon
Weighted blankets have gained popularity in recent years, as many people find they reduce anxiety and promote better sleep. For adults, weighted blankets range from about 12 to 30 pounds, and lighter options are available for older children. When it comes to selecting a weighted blanket, you want to make sure you are picking the one that is the right weight for you, with the ideal weight of the blanket being about 10 percent of your body weight. Here are three weighted blanket options at various price points, one for every budget:
Amazon is often the go-to website for just about everything these days, so it makes sense that the retailer would carry weighted blankets. The #1 best seller in weighted blankets on the site, this YnM weighted blanket is available at prices that vary by weight, but you can't beat $70 for a 15-pound blanket, with a number of color options available at specific weight classes.
2. Quility Premium Adult Weighted Blanket & Removable Cover
Our next tier weighted blanket can also be found on Amazon. If you're looking for a weighted blanket that has a variety of removable duvet cover colors to choose from, then this would be the option for you. The 15-pound option costs just under $125, but this particular blanket also has weight classes ranging from 7 to 30 pounds, making the benefits of weighted blankets more accessible to a wider range of consumers. Not sure which size is right for you? Quility has a handy guide available on their listing to help consumers choose.
This luxury tier weighted blanket will help ease your insomnia, stress, and anxiety. Using beads to weigh it down, this blanket will feel like a hug and provide comfort and relief on those restless nights. Available in 15 lbs, 20 lbs, and 25 lbs, this "hug in a blanket" will help the user release the hormone oxytocin, causing a comforting, relaxing feeling. This weighted blanket includes a pre-shrunk cotton duvet cover that is both washing machine- and dryer-safe so you can keep your weighted blanket as new as they day you bought it. The blanket itself is spot-clean only.