Apple Smart Home: Is Apple Working on New Smart Home-Related Hardware
The firm may be up to something.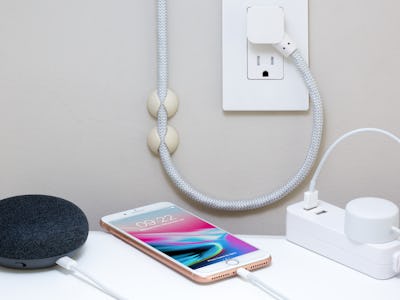 Unsplash / Thomas Kolnowski
Apple may be up to something big on the smart home front. On Monday, it emerged that the company has acquired a series of patents from an artificial intelligence camera developer called Lighthouse AI. The move comes after a recent hiring at Apple's home initiatives, and could spell a broader move into the smart home.
IAM reported that the company acquired a number of patents from the defunct camera firm. This includes a "speech interface for vision-based monitoring" that offers natural language interaction, a "two-way communication interface for vision-based monitoring system" enabling users to chat with each other, and a "method and system for incident sharing in a monitoring system." Two granted patents even cover using depth-sensing cameras in low-light conditions and visually identifying people.
The patents could help Apple move further into the home automation market. The company first launched its HomeKit smart home framework in September 2014 with iOS 8, gradually expanding to cover a control app and Siri support. Supported products can hook into the interface to make home automation straightforward, similar to how the Amazon Echo and Google Home support home-centric voice commands. Unlike these two, however, Apple's foray has been hampered by a lack of an affordable smart speaker like the Echo Dot or Home Mini, asking users to fork out $349 for the HomePod.
Lighthouse, the previous holder of Apple's patents, sold a $299 camera with 3D depth-sensing functionality, plus a monthly fee for cloud storage. A voice-activated system could answer questions like "what time did the kids get home on Thursday." Unfortunately, it failed to gain traction in the market place and the firm closed in 2018.
Apple has yet to launch such a product, but its moves suggest interest in further integrating with users' setups. The Apple TV set top box can draw together HomeKit devices, similar to the iPhone and Mac, meaning users can control their home from their TV. Recent HomePod patents hint at better Siri support, a smart fabric mesh on the exterior and hand gesture controls. The company has also worked at improving third-party support, with brands like TP-Link adding support at CES 2019.
The company has made internal changes that lay the groundwork for further moves. Last month it hired Sam Jadallah, former CEO of $700 smart lock firm Otto that was previously described as the "Apple of smart locks." Jadallah's LinkedIn profile states he is working on home technologies for Apple. The company also purchased Pullstring, a firm that develops voice-activated toys.
With WWDC scheduled to take place in around three months' time, it may not be long before the firm provides more details about its home ambitions.