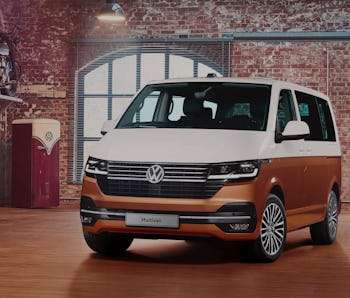 Innovation
VW's New Electric Van Is a Chunky Boi
In awe of the size of this lad. 
Volkswagon 
Assuming it's not packed with illegal software designed to deceive regulators trying to help thwart the most disastrous effects of climate change, Volkswagon's latest take on the electric van looks like a pretty fun ride. Behold the above chonky boi, an absolute unit known as the Multivan 6.1, which was announced yesterday as eventually coming with an all-electric variant.
This is according to a Thursday press release obtained and published by InsideEV. The release notes that the electrified version will be a modified take on the Multivan 6.1, produced as part of a collaboration between Volkswagen Commercial Services and ABT, a major German tuning provider. According to the announcement, the range is supposed to exceed 400 kilometers, or a little less than 250 miles. That's about on pace with the Tesla Model X.
Other than that, the announcement is a little scant on the details about the electrified version, and a VW spokesman didn't immediately respond to a request for comment sent after working hours in Germany. We'll update this if we hear anything else about this chonky boi's electric cousin, though it looks like the traditional Multivan 6.1 will be dropping some time in the Fall.
Many of the details included in the announcement about the new Multivan 6.1 focus not on electrification or a potential shag carpet variant, but instead on all of the other tech these Multivans will pack. Though its predecessor was only released in 2016, the refresh is fairly substantial, and includes a new interior, plus a revamped infotainment system with always-on radio and streaming options, eSIM integration, connected assistance, and a new UI.
"The new T6.1 is the car for the here and now," said VCV chairman Thomas Sedran in the statement, which notably neglects to mention the T6.1's chonikness (big mistake IMO). "We have taken a proven vehicle and updated its assistance and infotainment systems and connectivity to the state-of-the-art today."
It's already been a big year for VW's electrification efforts, which have a goal of selling 1 million electric cars by the year 2030. Earlier this year, the company also rolled out a new brand called Elli, a "holistic energy and charging" division it founded in 2018. And on Monday, the company's upcoming ID, expected to be the first VW electric car model, will be manufactured using an entirely carbon neutral process. The ID is expected to launch some time before the end of 2019.