Here's How You Can Battle Stress and Anxiety With Your iPhone
Aura is an all-in-one stress management app.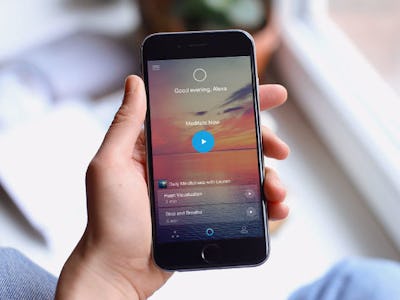 Inverse Shop
It's easy to trick yourself into thinking being miserable is normal. I mean, just look at all this [I gesture vaguely to a picture of the Earth] why wouldn't you be miserable? Sometimes if I'm not outrageously stressed I'm like "Why am I not outrageously stressed? Am I forgetting something I'm meant to be doing right now?" Maintaining a healthy work/life balance, focusing on yourself, or even just relaxing can feel like guilty pleasures. It's time to change that.
Meditation apps are a major industry right now, and for good reason. They provide therapeutic, guided courses on mindfulness, meditation, and relaxation at a fraction of the cost of other methods, and you can use it any time, any place. Oh, and they help with your sleep, too.
Created by top meditation teachers and therapists, and personalized by ground-breaking AI, Aura Health helps you relieve stress and anxiety by providing short, science-backed mindfulness meditation exercises every day. There are many mindfulness apps out there, but Aura is the only one that uses machine learning to completely cater to you and your specific needs. You can take stress ferociously head on, or you can allow Aura to help you reach a greater equilibrium without breaking the bank or spending excessive amounts of time on complicated exercises.
Usually $499 for a lifetime subscription to the app and all its services, you can get Aura Premium forever for just $79.99 right now.