HBO Confirms 'Deadwood' Might Get a Movie
Can one of TV's greatest shows get the finale it deserves?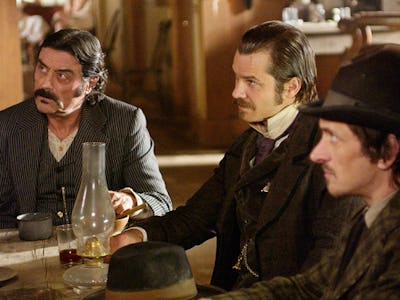 HBO
Deadwood was one of the greatest television shows ever made, but — like so many gunslingers — it was shot down before its time. Now, Variety confirms there are talks underway for Deadwood the Movie. Are HBO movies going to be a trend? If so, this would almost certainly be a marked improvement on the first outing.
Deadwood lasted just three seasons because creator David Milch turned his attention to the less-loved but kinda good John From Cincinnati, and ever since it left the air a decade ago there's been talk of movies to provide a satisfying conclusion. But the immense cast dispersed to other shows (almost all the main actors made appearances in Justified) and the sets were torn down. Still, the fans held out hope, and you'd hear chatter from time to time.
The latest rumors started last night when Garret Dillahunt, who played two characters on the lamented Western, tweeted that Deadwood might not be so dead.
An HBO spokesman told Variety discussions were underway but characterized them as "very preliminary." So, Deadwood fans have unanswered questions. That's how it goes out West, but it's still important to remember the key piece here: Would it be good?
It's been a long time, who knows how it might turn out. But season two is among the best seasons of television ever aired. The show was just a couple years too early, before the sale of DVDs and digital season packages offset the expense of period TV, and before we all started talking about the new golden age of small screen drama. Had it been allowed to run its course to a natural conclusion, we'd hold it the same esteem as The Sopranos, Breaking Bad, and The Wire. God rest the souls of anyone trying to give the ballad of Al Swearengen a proper finish….and pussy's half price for the next 15 minutes.