Lunar New Year: How to Make 5 Shadow Puppets Inspired by the Han Dynasty
How an ancient tradition became world famous.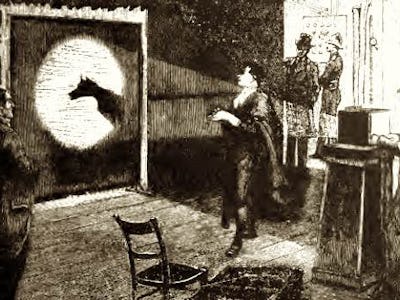 Open Court Magazine, 1904
Google marked the Lunar New Year on Tuesday in the United States with a Google Doodle on the search site's homepage. People throughout most of Asia and across the globe welcomed in the Year of the Pig, the last of the 12 animals of the Chinese zodiac. The tech company rang in the transition by letting users try their hands at the ancient tradition of shadow puppetry.
The doodle included an artificial intelligence-powered shadow art game that teaches users how to make hand gestures resembling each of the zodiac animals using their webcam.
The form of shadow theater dates back more than 2,000 years ago to the Han Dynasty and was originally done using intricate paper sculptures. Puppeteers manipulated puppets using rods behind a cloth screen to put on full plays, an art form that eventually led to hand shadow performers, or shadowgraphists.
Félicien Trewey was a French performer most noted for popularizing the art in Europe during the 19th century. He took inspiration from Chinese artists by perfecting widely known animal silhouettes and created his own hand shadows of human characters.
The Cat
Trewey died at the age of 72 in December of 1920, one year after his book, The Art of Shadowgraphy: How It Is Done, was published. The how-to book mastered popular silhouettes, like the cat, and introduced more creative shadows — some that even used props.
The Elephant
The French performer taught fledging shadowgraphists the ropes by providing a list of hand exercising to warm up. Shadows like the elephant are a good place to start compared to the more challenging shadows in the Google Doodle game. But the final product also relies heavily on the artists' positing from the light and the screen.
Robinson Crusoe
More advanced forms, like Robinson Crusoe, require sharp shadows to make out every little detail. Trewey suggested a single candle, but a flashlight or lone bulb will do the trick. He suggested the artist be roughly four feet away from the light source for the best results.
The Jockey
The Google Doodle game requires users to aim their webcam at a blank wall to play, a technique that ancient Chinese shadow puppeteers invented — and Trewey continued. He writes in his book that a white or light colored wall would work just fine, or a white sheet could be suspended in a doorway to act like a screen. Stand roughly six feet away from the screen for the clearest silhouettes of hands and props.
The Fisherman
Trewey's use of props let him create full scenes by using both of his hands. An advanced technique that harkens to the Chinese roots of modern-day shadowgraphy.