'Jack Reacher 2' Moves Ahead, Continues Tom Cruise's Squad Goals
The sequel will begin production in November.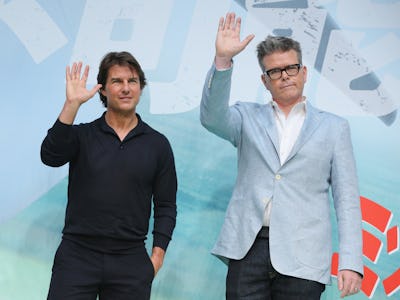 Getty Images
Ten years after jumping on Oprah's couch and coming across as a raving lunatic, as well as catching constant flack for his close ties to Scientology, which led to people abandoning him altogether, Tom Cruise seems to — for the moment at least — be back. On the heels of the fifth installment of his Mission: Impossible franchise dominating the summer box office for two weeks in a row, Cruise is now poised to start another potential franchise with Jack Reacher 2.
Paramount Pictures has finalized plans to move ahead with the sequel to the gritty 2012 movie previously written and directed by M:I - Rogue Nation helmer Christopher McQuarrie, and based on the popular book series by author Lee Child. This time the movie will be directed by Ed Zwick, who previously worked with Cruise on 2003's The Last Samurai.
Currently, Last Samurai's Marshall Herskovitz is listed as a screenwriter on the Jack Reacher sequel along with some contributions by Zwick, and the studio hopes to fast track production for a November start date and a late 2016 release.
It's a curious choice for Paramount considering the first movie didn't break $100 million at the domestic box office, a mark that's the absolute first step in potential franchise starters. However, it was a bit of an outlier in Cruise's recent output because it only cost $60 million to make and made back its budget and marketing costs in ancillary markets.
It's also a curious choice since it continues Cruise's absolutely on-point squad goals as of late (which we've previously covered here). Add Zwick to McQuarrie and Edge of Tomorrow director Doug Liman to the list of recent contributors that have helped bring Cruise back to movie star heights.
The actor has Mission: Impossible 6 lined up to shoot after Jack Reacher 2, and then hopefully after that he can get Edge of Tomorrow 2 up and running.
In the meantime, Rogue Nation looks to keep making money out of the dwindling summer movie season, and the Cruise and EoT director Liman are currently busy shooting the drug thriller Mena, about a former pilot who smuggled drugs for the Medellin Cartel in the 1980s, which gets a release in January 2017.
Let the Tom Cruise-aissance keep rolling.