Tom Cruise's 'Edge of Tomorrow' Sequel Hints Show Serious Squad Goals
'Edge of Tomorrow 2' doesn't look like an impossible mission.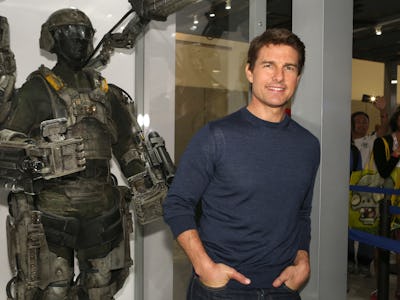 Getty Images
Edge of Tomorrow didn't get its due — or got it too late. Since failing to light up the box office during its original theatrical run last year — leading Warner Bros to rename it Live. Die. Repeat. for its home video release — the movie has slowly developed a fairly braggable reputation. Tom Cruise is now giving fans hope that they might return to that intensely cyclical plot, and he is doing so in a way that indicates one possible future for his career.
At the premiere for Mission: Impossible: Rogue Nation, which hits theaters Friday, Cruise admitted to MTV News that he had an idea for an EoT sequel he had already run by its director and screenwriter:
"I pitched it to McQuarrie and Liman. We were there one night and I was like, I've got an idea for it," he said.
Here's where we note that Christopher McQuarries directed Rogue Nation and EoT and that Doug Liman wrote Edge of Tomorrow. It's enough to make fans of alien-fighting commandos rejoice — but not so fast. Cruise may strap into that crazy looking battle suit again, but he didn't let slide just what the idea was.
Still, if these guys can get their plans in order and start on a sequel in the next year or two, this may mean Cruise and his squad will have set up a fairly nice slate of kickass action movies — from McQuarrie's Jack Reacher to Liman's Edge of Tomorrow to McQuarrie's new Mission: Impossible installment to Cruise and Liman's upcoming 1980s-set drug thriller Mena to Edge of Tomorrow 2 (a.k.a Edge of Next Week).
If the overwhelmingly positive critical reaction to Rogue Nation is any indication, the Cruise/Liman/McQuarrie squad are on a roll. Now all they need to do is figure out how to bring back the time travel conceit without making it too absurd.