Here Are Cinema's Best Youths for #Youthday
According to Twitter, it's #Youthday. Here are the best youths to appear on our screens.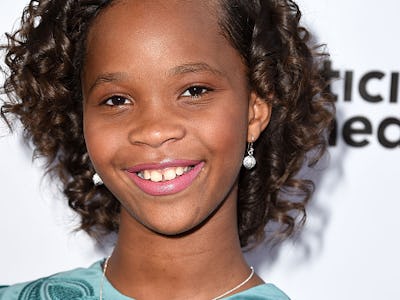 According to Twitter, today is #Youthday. In this day and age, adults often write off youths as a baffling, short attention-span-having, selfie-stick wielding species.
But youths are more than that. In honor of such a special occasion, here are the best youths to appear on our screen in recent years. Because, however you pronounce the word, the youths are often underappreciated.
Hushpuppy in 'Beasts of the Southern Wild'
Quvenzhané Wallis became the youngest Oscar nominee in history at just nine years old for her affecting performance. in this film. Hushpuppy has spirit and gumption and she's one of the best characters on our screens in recent years — youth or adult.
Joffrey Baratheon in 'Game of Thrones'
Joffrey was the fucking worst in Game of Thrones. But he was so good at being the worst. There was an unrestrained, gleeful quality to his evil that made him fun to hate, and it's truly a crime that Daenerys has gotten Emmy nominations but Jack Gleeson never did.
Ronnie in 'Role Models'
This dirty mouthed kid started out as a little troublemaker, but as the film progressed and we learned more about him, he developed a bond with an arrested-development adult (Sean William Scott, playing the same role he always plays) that ultimately made them both better people.
Agatha in 'Grand Budapest Hotel'
Grand Budapest Hotel's Agatha was plucky and strong-willed, and she got the job done. Her story may not have ended happily, but it was fun while it lasted. Plus, this is one of Saoirse Ronan's only film roles where she gets to keep her native accent.
The misfit delinquent youths of 'Misfits'
This highly underrated British show was everything Heroes tried and failed to be, only with youths. The characters covered the entire spectrum from chavs to athletes to nerds, thrown together in mandatory communinty service. It's the modern-day Breakfast Club with added superpowers. Also, Ramsey from Game of Thrones plays an endearing character in it, and you'll never look at him the same way again.