'The Notebook' Is Coming to CW as a TV Show, Sure, Good Luck with That
If it works, get ready to cry again.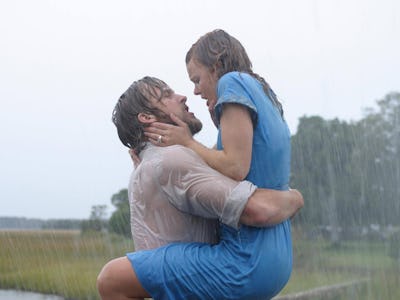 New Line Cinema
A television adaptation of Nicholas Sparks' 1996 book and the ultimate date night movie to end all date night movies from 2004 is currently in development at the CW, according to Entertainment Weekly.
On the surface, The Notebook as a serial drama for the CW sounds like a great idea. But now think about it. Really, really think about it. How the hell would it work?
The show's official logline:
This series will follow the romantic journey of the two beloved central characters Noah and Allie, at the outset of their blossoming relationship as they build their lives and their future together against the backdrop of the racial politics, economic inequities, and social mores of post-World War II of the late 1940s in North Carolina.
Lovely! Except, how? The shadow of the 2004 Nick Cassavetes movie will loom over the series. What kind of story could the series tell that the movie hasn't already when it reduced girlfriends, wives, moms, and a few dads who lost control of the remote to tears more than a decade ago?
Thankfully the CW has a huge young adult audience that eats this stuff up. Although they slant towards the fantasy/genre niche with Arrow, Supernatural, and Reign as its top shows, those shows attract a young female audience that definitely won't mind watching something sappy for once.
The 2004 movie starred Rachel McAdams and Ryan Gosling as Allie and Noah respectively, and was a sleeper hit for New Line Cinema.