Sake Dean Mahomed: How He Became "The Shampooing Surgeon of Brighton"
Meet the man who turned Indian champi into shampoo.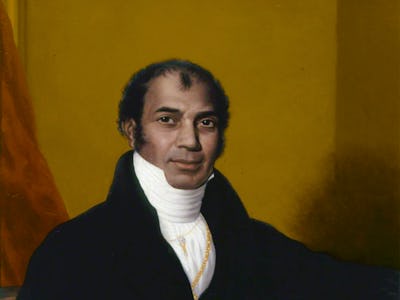 Inverse
As far as epic nicknames go, it's hard to top the "Shampooing Surgeon of Brighton." The name refers to Sake Dean Mahomed, who was honored with a Google Doodle Tuesday to mark the day in 1794 when he became the first Indian author to publish a book in English. The shampooing part came after, when Mahomed ditched the life of a writer and restaurateur to open up wildly successful spas in England's most famous seaside town.
Mahomed (sometimes spelled Mahomet) was born in 1759 in the city of Patna, which was then located in the Bengal Presidency of British India. He came from a family belonging to the nai, or barber, caste. As such, he was well-versed in the science of making soaps and hair cleansers, as the Times of India reports, as well as a type of Indian head massage known as champissage, which would later give rise to the word we know as shampoo.
Though he enjoyed recognition after publishing several books and opening London's Hindoostane Coffee House, Britain's first Indian restaurant, Mahomed saw the most financial success when he reinvented himself as a health and wellness expert. He'd gotten a taste of Britain's hunger for health cures when he introduced champissage at the Portman Square vapor baths run by the nobleman and nabob Sir Basil Cochrane. One account suggests Mahomed might have seen a lot more success even then; if only Cochrane didn't take advantage of him:
Meanwhile, Cochrane claimed to have developed a form of vapor cure while in India; he determined to improve the health of London's lower classes, and his own reputation, by establishing a vapor bath for their therapy at his plush home in Portman Square early in 1808. Dean Mahomet served in this vapor bath but Cochrane never acknowledged any Indian contribution to his invention.
Eventually, Mahomed took his business into his own hands, moving his family to Brighton to open a series of baths for people traveling to the seaside in hopes of being cured. The most famous was Mahomed's Baths in East Cliff, which offered champissage, herbal steam baths, and a wealth of other treatments. He set himself apart from competitors by emphasizing the uniqueness of the "Indian Method," which only he could provide.
A shrewd self-promoter, Mahomed published a number of treatises on the ailments his treatments could cure, which included "all manner of complaints from asthma, paralysis, rheumatism, sprains, and nervous disorders to piles, sore thumbs, loss of voice, and cricks in the neck," according to a research paper by by Kate Teltscher, Ph.D., an expert on British-Asian cultural exchange. Teltscher notes that Mahomed "significantly" doctored his life history in the preface of his Shampooing treatise to include medical training and a stint as an army surgeon.
These credentials added to his growing reputation as "Dr. Brighton," which eventually caught the attention of royals George IV and William IV. Eventually, he was appointed as their official "Shampooing Surgeon," his business and reputation flourished, and his name stuck around, even to this day.