Cadillac Kicks Off Detroit Auto Show With Tantalizing Electric Car Tease
The race to be the face of EVs is going to get a lot more crowded.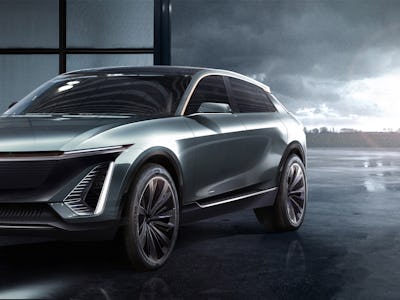 Cadillac 
Cadillac was one of the few auto-makers with a presence at this year's North American International Auto Show in Detroit to devote (at least some) of its time to hyping an electric car. The concept release followed a Friday announcement from parent company General Motors that Cadillac will be the first face of its BEV3 platform to support electric car infrastructure. The images were released Sunday.
BEV3 is meant to be used in a variety of vehicle formats, the press release notes. Its most sophisticated components are its drive units and battery cells; but by making Cadillac the face GM also seems like it's positioning its first EV as a luxury alternative to the Model X. General Motors' plan is introduce 20 vehicles that are either battery or hydrogen powered over the next four years, the AP reports.
"Cadillac's EV will hit the heart of the crossover market … while positioning Cadillac as the pinnacle of mobility," reads Cadillac's press release. Of course, it's just a concept for now, the car doesn't yet have a name or release date, though Cadillac does say that it's planning to release a new vehicle every six months between now and 2021. The EV concept was unveiled alongside its XT6 SUV crossover.
Detroit Auto Show: Where Are All the EVs?
There haven't been a ton of electric cars at this year's conference, GAC introduced a new concept on Monday dubbed the Entranze; and Nissan also teased its next generation IMs, a fully electric concept that looks ahead to fully autonomous driving. Nissan's IMs was perhaps the most audacious, it notably features an almost cafe-style 2-1-2 type of seating, presumably looking ahead to an age where no one will have to watch the road.
To be fair it is something of a transition year for the auto show, which . starting in 2020 will move its dates to June. Many of the big auto makers decided to sit this one out. What's more, many of the abstainers are also the biggest names in electric cars, including not only Tesla, but Mercedes-Benz, Audi, and Jaguar. Nearly a dozen high profile electric cars or concepts were unveiled in 2017, a year that both Audi and Mercedes-Benz made the trip. Next year might prove more fruitful for EV consumers while also being something of a return to normalcy.
Then again, there may be structural headwinds facing EVs. Obama-era subsidies began being phased out at the end of last year in what was already a tough climate for auto-makers, and trade uncertainty has hit auto manufacturers particularly hard.
Finally, it may be another sign that electric vehicles remain more conducive to garnering positive headlines than they do for garnering sales: Industry stats indicate that nearly three quarters of the new cars sold in the U.S. in December were mostly gas guzzling SUVs, per the AP's report.