Illinois Teen Protects American Kids From School Shootings With Radio Waves
"But the ideal situation is that it wouldn't happen in the first place."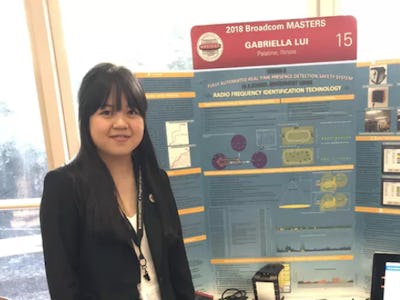 Gabrielle Lui
A record number of gun incidents happened in American schools in 2018, making it the worst year for school shootings in United States history. One of those incidents occurred in May in Dixon, Illinois, not far from where an eighth-grader named Gabriella Lui was working on an ambitious project to alleviate the devastation of those tragedies with radio waves and school lanyards. Lui, who took home a top prize at a national science fair in October for her work, was just doing what she could to make life a little less scary for a generation scarred by shootings.
"I remember the thing that really drove me to this was when it happened at an elementary school," she tells Inverse. "Like, little kids? Come on."
"But the ideal situation is that it wouldn't happen in the first place.
Lui, now an energetic and charismatic high school freshman in Seattle, took home the first place technology award at the Broadcom MASTERS competition for her system for tracking student locations in real time during a school shooting.
"My goal was that, in the case of a school shooting happening, for the search and rescue time to decrease and for us to locate students faster so they can get medical help, whatever they need," she explains.
"But the ideal situation is that it wouldn't happen in the first place. That we wouldn't have to come up with this kind of stuff to — oh, it's so sad."
Her project is a complicated system of antennas and tags that use radio frequency identification, or RFID, technology to track the whereabouts of any student near the school at any given time. All that location data is relayed back to an Android app so parents and school administrators can track individual kids in case of an emergency.
"The first book I read on RFID was one of those yellow books, the For Dummies.
Lui admits she didn't know a thing about RFID and had only the tiniest introduction to the coding language Python, which she used for her app, before she started her project. "The first book I read on RFID was one of those yellow books, the For Dummies," she said. "Those are the best books!"
She taught herself that sticking an RFID tag in a student lanyard was a very good way to collect location data on any individual, so long as they were within range of a classroom antenna. Radio waves beamed out from those antennas created coverage areas with a radius of eight feet, and Lui learned that any tagged lanyard within those circles bounce those signals back toward a reader that converted them into useful location data. Bearing in mind the signaling issues posed by a school's high ceilings and the sheer number of bodies in the area, she figured how to map that data in a user-friendly app and improve location accuracy with machine learning.
With over 120 million data points, she even taught herself the most crucial of adult skills: "Wow — one of the important skills I learned was using Excel," she says.
You might find the following primer on RFID useful:
"This is for a good purpose.
Though most of her classmates were on board with the intent of her project and her study design, the self-learner quickly made another crucial discovery. "Actually a lot of my classmates thought, 'Oh, you're trying to invade our privacy!" she says. "RFID has always had a negative cloud around it. Like that George Orwell book — Big Brother."
She's not wrong about the rise of RFID tags feeding society's fear of constant surveillance, but she maintains the intent behind her project remains pure. "This is for a good purpose," she says. "We're only going to use that location data in case of an emergency situation."
Its usefulness notwithstanding, what makes Lui's project so poignant is that it represents her generation's reaction to a world in which gun violence has become the norm. Kids in America have been forced to accept that school shooting is a persistent threat, and it's encouraging to see students like Lui and her peers responding with compassion, not revenge.
"Everybody knew what a big problem gun control is and how devastating it is to see students literally our age die for no reason," she says.
As she continues to teach herself new skills — next up is jazz guitar — Lui is setting her sights on the Intel Science and Engineering Fair, an international competition for high schoolers. Though she's already thinking of dabbling in biomedicine and engineering for her next project, the lessons she learned while working on her location system are still on her mind.
"I can't prevent any gun shootings," she says. "At the end of the day, I've done my best to try and improve what we have right now. But obviously the goal is for America to just have tighter gun control."