What Smart Home Tech Samsung, Google, and Amazon Have Planned for CES 2019
2019 the year of the smart home.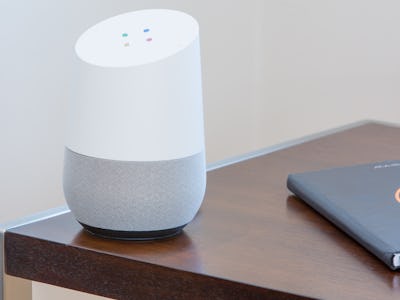 Unsplash / Thomas Kolnowski
Advances in smart home devices can be less flashy (and, apparently, more controversial) than the huggable robots or groundbreaking smartphone designs you'd expect from CES 2019. But the Internet of Things is set to come into its own in 2019, and this week's conference in Las Vegas offers a preview.
The stage is set: Google kicked off the trade show with an announcement that its voice assistant would be available in over one billion devices by the end of January. Voice assistants, after all, are the defacto interface for engaging with smart homes, but it's not just Google that will be cashing in on the projected $53.45 billion in smart home revenues expected by 2022. Indeed, the rise on smart homes are inextricably linked to the other big trend on display at this year's CES: The adoption of 5G which will be the main focus of virtually every carrier with a presence at the conference.
To understand why the two are linked, it helps to think of IoT devices as water and 4G LTE as a pipe. With hundreds of millions more internet-connected microwaves and light bulbs potentially coming online, the current pipework is about to burst. To solve that problem, 5G is supposed to exponentially increase how much bandwidth our infrastructure can withstand, unleashing in the process a whole universe of new technologies and uses.
Here's what to anticipate from these three tech monoliths at the CES 2019.
CES 2019: Samsung Galaxy Home
Samsung unveiled its Samsung Galaxy Home smart speaker in August, but has yet to announce a price or release date for its vase-shaped speaker. That could all change when the company takes the stage at the Las Vegas convention center Monday at 5 p.m. Eastern (2 p.m. Pacific).
Bixby, the company's voice assistant currently lags Google Assistant, Apple's Siri, and Amazon's Alexa in terms of the marketshare for voice assistants and smart speakers. But Samsung's smartphone dominance presents a perfect launchpad for more ambitious tech.
As of the second-quarter of 2018, Samsung had more than 20 percent of the global smartphone market share with 7.15 million shipments worldwide. That's a lot of phones, and a lot of opportunities to get users used to Bixby's commands and interface.
Introducing a smart speaker that can integrate with smartphones will be the next step to Samsung's success in the smart home market.
CES 2019: Google Assistant Rules the Home
Google's agenda for CES 2019 is to leverage its voice assistant's supremacy with a slew of new integrations and partnerships. The Google Assistant is estimated to be more than half of global smartphone users' A.I. of choice.
The company wants to let customers use the tech they take everywhere (their smartphones) to control where they sleep every night, and third-party companies are onboard with this vision. Simplehuman announced a smart mirror with Google Assistant capabilities Monday at CES. And KB Home unveiled the company's vision for full smart home experience that is — you guessed it — Google home compatible.
These announcements all shed light on the thinking behind last year's Google Home Hub, which is envisioned as as kind of control panel for all your IoT devices. The company is slowly taking their mobile presence and transferring it to the home.
CES 2019: Amazon
Amazon's Alexa is the unrivaled queen of smart home devices in the United States. The company dominates the market share for stationary smart devices and has used this to release a flurry of IoT appliances, speakers, and displays. It'll likely use CES to announce updates to its services.
The company made its big hardware announcement in September, so expect news that focuses on partnerships and integration. It's been sitting on announcements about its Amazon Key in-home delivery service concept for some time. This system would come with security cameras and an IoT passcode doorknob to let Prime delivery be placed inside your home when you're not around.
Amazon is clearly leaning into its strengths by doubling down on appliances and retail to keep its home dominance.