How Much Will 'Fantastic Four' Make at the Box Office?
It's reboot clobberin' time.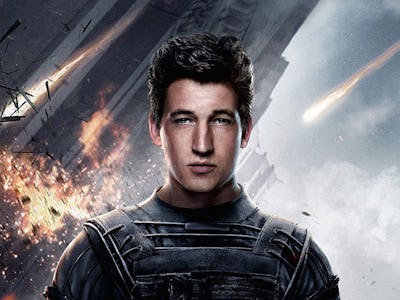 www.fantasticfourmovie.com
The Fantastic Four reboot hits theaters this weekend a mere decade after its previous adventures arrived with a one-two thud in 2005 and with a woeful 2007 sequel two years later. This incarnation doesn't have early-era superhero movie awkwardness to blame; director Josh Trank's update has earned some fairly nasty behind-the-scenes problems on its own merits.
But with a young cast led by rising stars like Miles Teller and Kate Mara, some say all that stuff is just noise. Whatever your initial take, what does it all mean in terms of box office bank?
Mr. Fantastic, the Invisible Woman, the Human Torch, and the Thing aren't part of the huge, multi-billion dollar Marvel Cinematic Universe. Nope, just like the X-Men characters also owned by Fox, the Fantastic Four won't be found hanging out with The Avengers or Ant-Man anytime soon. The rights to these four have been toiling at 20th Century Fox for the last decade, and this very reboot exists largely because the studio didn't want to let the rights revert back to Marvel.
The fact that the reboot doesn't have the murderers row of Marvel heroes behind it is a major blow, but what about all that other drama? Most moviegoers won't care or know about on-set squabbles (it was Trank's behavior that reportedly got him fired off one of the new standalone Star Wars movies, though he denies it). The core of voracious superhero geeks who will constitute the movie's audience is keyed into the production drama. And when the finished product is as much of a seemingly unfinished and scattered mess as Fantastic Four is, the turmoil clearly informs the clunky final product.
Where does it all land? The property has a flaccid onscreen history (the first attempt at bringing the four to the screen in 1994 is reportedly so bad that it went unreleased). Cineplexes will be crowded this weekend with Mission: Impossible - Rogue Nation and Ant-Man still going strong. And it's simply not very good. In all, Fantastic Four should pull in about $50 million on its opening weekend.
Fifty million big ones ain't bad, that is if you're Ricki and the Flash, but this is a $120 million superhero movie we're talking about here. Our generous estimate puts the movie well below the $56 million first weekend take of Fantastic Four (2005) and the $58 million Fantastic Four: Rise of the Silver Surfer made on its first weekend.
It should dethrone last week's box office champ, Rogue Nation, but not by much. The fifth installment of the Tom Cruise series landed with critics and audiences alike and features some ridiculously awesome stunts you can read about here. It will likely keep racking up tickets as the summer movie season winds down.
The real question remains, what will happen to the Fantastic Four characters if the reboot proves to be a box office catastrophe? Much like The Amazing Spider-Man at Sony — which was itself a rights-driven reboot — Fantastic Four may drum up enough contrarian support to break even and maybe squeeze out a sequel. Fox will have convinced itself it didn't do anything wrong.
But all signs point towards the franchise languishing before eventually going to Marvel with stretchy, invisible, craggy, and fiery bells on. It's too bad; the movie does feature hints of brilliance that just never pay off. Maybe once it's back home with Marvel, it'll start to do just that.