How Much Will 'Ant-Man' Make at the Box Office?
It'll be huge ... just not by Marvel's lofty standards.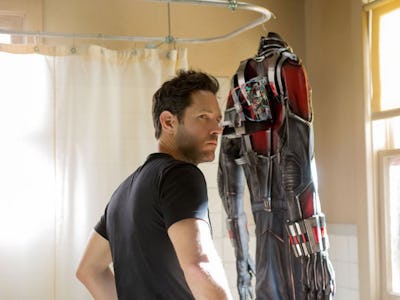 Marvel.com
Ant-Man is the 12th movie in the Marvel Cinematic Universe, and though he's lucky to be in that club, it may not do the mini-superhero any favors to run with the big guys. He's a third-tier comic character whose production was fraught with drama and whose subject matter is cheesy even by the standards of a genre that might as well be a fondue. The movie has a lot going for it, but let's keep expectations in check.
What does that mean in terms of dollars and cents?
It would take a tsunami of fanboys and girls to rake in what last week's box office champ, Minions, did. The parents brought the kiddies out in droves to see it (seriously, please, somebody tell us why Minions are so popular) to the tune of $115 million-plus. The only other Marvel movies to gross that much or more in one weekend are Iron Man 2, Iron Man 3, The Avengers, and Avengers: Age of Ultron — sequels and mega movies featuring a bevy of previously established characters. Ant-Man, alas, rides mostly alone.
Based on its relative obscurity, its non-sequel status, and competition from Minions, I don't foresee Ant-Man pulling in much more than $60 million in its opening weekend.
That's a hell of a haul for anything other than a Marvel project. Our projected tally would put it second to last in opening weekend grosses for movies in the Marvel Cinematic Universe, just above the universally panned version of The Incredible Hulk, which made a smidge over $55 million when it debuted in 2008.
Captain America: The First Avenger and Thor grossed roughly $65 million each in their opening weekends, and Cap's July release makes Ant-Man more analogous. Plus, Marvel has become a commanding brand domestically and overseas. Last year, Guardians of the Galaxy began as a quirky take on a cast of relative unknown characters and wound up making $94 million in its first weekend, on the way to more than $333 million in total.
Ant-Man is the last entry in the MCU's Phase 2 series of movies, and the transition into Phase 3 with the geek-friendly storyline in Captain America: Civil War could push people to take a chance on Ant-Man to see what the shift to the next block of mega-blockbusters will be like. But barring any Jurassic World-like surprises, and based on the MCU's average box office takes, Ant-Man should pull in about $200 million over its domestic run. That's none to shabby at all. It's gotta be, like, 5,000 times his body weight.