Turns Out the Avengers Will Be in 'Ant-Man'
Well, at least one of them.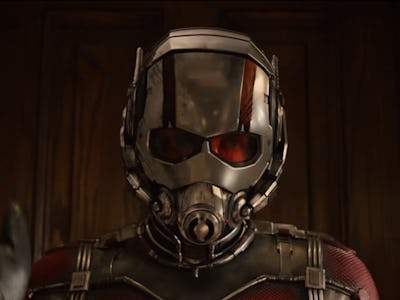 YouTube.com
Marvel is throwing Ant-Man an Avenger. Though it's been heavily hinted at in previous trailers, and rumors have simmered about what's in store for Ant-Man, a new Spanish TV spot for the movie features a split-second cameo of Falcon, the newly minted Avenger played by Anthony Mackie.
No word on whether other Avengers — Iron Man, Captain America or Black Widow, etc. — will pop up.
This is a great move for Marvel. Its upcoming movie needs to fight the character's relative obscurity and potential goofiness (which, as we've seen in the other trailers so far, the movie is doing a good job of mocking). It brings something for casual fans of the Marvel Cinematic Universe to immediately recognize.
It's also a telling move for the all-important interconnected future of the MCU. In the comics, Ant-Man was actually a founding member of the Avengers, but was left out of the 2012 tent-pole adaptation and its 2015 sequel. Ant-Man is the final installment of Marvel's cinematic Phase Two, which means the character will likely factor into the third Captain America movie or the massive, two-part installment of The Avengers called Infinity War. We'll find out how many more Avengers will be in the movie when Ant-Man shrinks into theaters on July 17.