When to Expect the Galaxy S10, Samsung's First 5G Smartphone
Samsung could make a splash in 2019.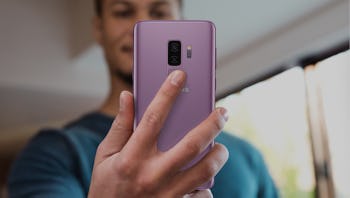 Samsung
Particularly with Apple sitting out next year's's race to 5G, 2019 will likely be a huge year for Samsung launches. It already seems likely that its foldable phone, possibly called the Galaxy F, will debut as early as next March; and now rumors, leaks, and rendered images of Samsung's upcoming Galaxy S10 and S10+ duo have already surfaced.
These two upcoming models are the successors to the Korean tech giant's S9 and S9+ that were released in February but saw lukewarm sales per a Reuters report. But the next generation of Galaxy handsets could make up for this by offering a display that has never been seen on a Samsung device and offer 5G support.
Samsung wasn't shy about touting its improved OLED screen technology during its developer's conference. The company has consistently delivered an eye-popping mobile display and this year it could launch its response to Apple's ubiquitous notch that has been replicated across the phone market.
Here's everything you need to know about the Galaxy S10 and S10+.
When Will The Samsung Galaxy S10 Come Out?
Since 2010, Samsung's Galaxy S Series models have all dropped during the first few months of the new year. The S8 launched in March of 2017, the S9 debuted in late February, and the S10 might be here come February as well.
There's been chatter that Samsung could drop its new smartphones during CES 2019 in January. But seeing as the company has never launched a phone that early in the year it seems unlikely. The S10 and S10+ will probably be announced ahead of or during Mountain West Conference 2019 that kicks off February 25.
Industry sources interviewed by The Korean Herald corroborate these estimates. And well-established smartphone leaker Ice Universe forecasts that Samsung will drop its foldable phone during CES and the S10 during MWC.
What Will the Samsung Galaxy S10 Look Like?
The S10 models might be near bezel-less. A series of renders were published by trusted smartphone leakers recently, claiming to show off how Samsung plans on ousting the notch trend.
Steve Hemmerstoffer, better known as OnLeaks, tweeted a link to various images that depict that the S10+'s front-facing camera will be embedded right in the screen instead of being housed in a bezel or notch.
These claims were supported by reliable leaker Ben Geskin who tweeted a render that also had the dual front facing cameras placed inside a cutout in the upper-right corner of the S10+'s display.
How Much Will the Samsung Galaxy S10 Cost?
We expect the S10 to be priced on par with the current S9 and S9+, which start at $719 and $839 respectively. The previous Galaxy S releases have followed this pricing strategy.
But Geskin estimated the S10 could be notably cheaper, starting somewhere between $650 and $750. This could make sense since Samsung is planning on releasing its foldable Galaxy F, which might cost as much as $2,500. Slightly lowering its prices on other models could serve as a way to capitalize on the high-end market and standard smartphone users.
Will the Samsung Galaxy S10 Come With 5G?
Various smartphones, like the Moto Z3, have promised 5G support in the wake of the networks rollout and the S10 could provide support for the ultra-fast connectivity as well.
Sources familiar with the matter interviewed by The Wall Street Journal, confirmed that the next-generation smartphone will come with 5G capabilities. This feature could be enabled by Qualcomm's newly announced 5G mmWave antennas. Both companies have announced their joint initiative to deliver 5G to their customers, so a 5G-supporting S10 model seems likely.
What Specs Will the Samsung Galaxy S10 Come With?
As far as hardware goes, the S10 models could be monstrous. The WSJ's report suggests it'll tout six cameras in total — two in the front and four in the back. This would continue the multi-camera trend that seems to be gaining traction across many smartphone brands.
Geskin corroborated the WSJ's six-camera claim and stated that its OLED display could be 6.44-inches diagonally. But the biggest change will be happening to the back of the phone.
The S Series traditionally came with a finger print reader on the back panel, but Geskin's render alleges that this would be replaced for an in-display fingerprint sensor. Users will be able to just place their thumb down towards the center of the screen and unlock their phones without the need of a home button.