Mr. Peabody and Sherman Travel From the Past to Netflix
First they went back to the future. Now they're going online.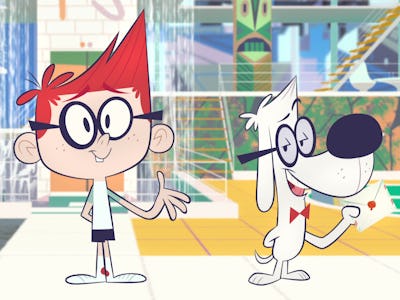 Netflix will debut The New Mr. Peabody and Sherman Show on October 9, reuniting the Rocky & Bullwinkle Show favorites after their disastrous — cost $145 million, made $111.5 million — 2014 film. Variety reports that, rather than relying on the show-within-a-show's old format, the intrepid duo will use their WABAC time travel technology to bring historical figures to the modern talk show. The series is notably Netflix's first attempt to bridge the gap between kid's content and prestige work. The show is plainly designed to be both adult and kid friendly, even though many of the adults who grew up with Peabody and Sherman now have kids with kids.
Perhaps the best omen for the show, which definitely sounds like it could go either way, is the casting of Chris Parnell as Mr. Peabody. Parnell, an SNL alum, has been in so many things that it would be impossible for him to have a blemish-free IMDB record, but he's dangerously close. He's Cyril on Archer, was Dr. Spaceman on 30 Rock, recently played Freud on the underrated Another Period, and owns on Rick and Morty. Parnell has taste. He also has a distinctly adult sense of timing. It seems unlikely that he's going to jig it up for the kids. His job will be to make dad laugh.
The show will be largely defined by the characters it chooses to bring to life. In its original iteration, "Peabody's Improbably History" was subtly subversive by being sensitive to the individual motivations of historical figures. We're not talking Howard Zinn as a cartoon, but due respect was paid to Geronimo, Pancho Villa and Sitting Bull. It will be incumbent on the show runners to treat their subjects and their subjects' outdated belief systems and struggles with respect. And they may be hard to do without, to a certain degree, taking America to task.
Whatever else the show turns out to be, it will certainly be an intellectual high-wire act.
The show may also signal a move in the direction of moose and squirrel. Rocky and Bullwinkle and The Rocky & Bullwinkle Show have had many iterations, from the original to the depressingly live action. In a sense, Bullwinkle was BoJack Horseman before BoJack Horseman so it might be said that Netflix is investing in its own inspirations. That's a cool way to spend money.