Internet Gaming Disorder Affects the Brains of Men in a Unique Way
Brain imaging reveals different effects between the sexes.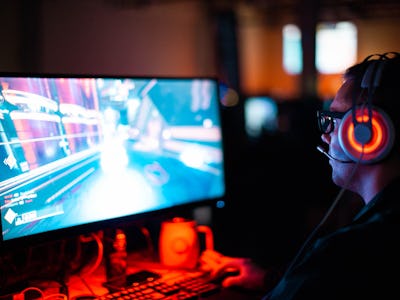 Unsplash / Sean Do
There is ongoing controversy over whether internet gaming disorder is a real illness, but the scientists who do accept it are finding that it affects men and women differently. At the annual meeting of the Radiological Society of North America on Wednesday, researchers showed that IGD tends to be associated with poor impulse control — but only in men.
For a patient to receive a formal diagnosis of IGD, they must have engaged with gaming in a way that causes them to neglect other activities. In the study, led by senior author Dr. Yawen Sun, a diagnostic radiologist at Ren Ji Hospital in Shanghai, researchers performed resting-state fMRI on men and women with and without an IGD diagnosis. These volunteers also completed a test designed to measure impulsiveness.
The brain scans showed that the men diagnosed with IGD had differences in brain functional connectivity compared to women and the control group. They also had lower levels of activity in the superior frontal gyrus, a region of the frontal lobe that's involved with working memory.
"Our findings demonstrated that alterations in cerebral activity are observed in men with IGD, but not in women with IGD, and that the lower brain activity in the superior frontal gyrus in men with IGD may be associated with higher impulsivity," Sun said.
But the researchers couldn't tell whether this meant that IGD actually changes the brain or that certain brains are simply predisposed to IGD.
"However, it remains unclear whether the brain functional and structural changes found in IGD are gaming-induced or precursors for vulnerability," said Sun.
Differences in impulse control between the sexes have been observed before. "Men have shown lower levels of impulse control in comparison with women, and their impulse control also increases more gradually," Sun continues. She points out that the results of the IGD study indicate that this gender difference becomes even more exaggerated in the case of IGD.
"Given the role of inhibitory control in the initiation of IGD," says Sun, "young men may tend to experiment with pathological Internet use to a greater degree than young women do." Figuring out which comes first — IGD or a predisposition to problematic video game playing — will be key to settling an ongoing debate about the validity of the illness.
On June 18, the World Health Organization officially recognized IGD as a mental health condition, which had huge implications for the medical establishment. The WHO's International Classification of Diseases decrees what is and isn't a real health condition — and, importantly, helps insurers decide what treatments they will cover. So IGD's designation as a mental health condition means that for-profit treatment centers could potentially bill insurers for inpatient treatment.
Psychologist Anthony Bean, Ph.D., told Inverse in June that the WHO's move to classify IGD as a mental health condition was "definitely premature." He's not alone: Bean, a clinical psychologist who specializes in treating gamers, is part of a small but vocal group of psychologists who question whether people who exhibit problems with video games may actually be living with other mental health issues that are going undiagnosed as a result of their being labeled video game addicts.
"I see gaming usually as what we call a secondary condition to a primary of depression or anxiety when they come into a therapy session," he said. "And as you work with anxiety or depression, the gaming reduces significantly." In other words, patients who are diagnosed with IGD may simply be using video games as a way to cope with another mental health condition.
Unfortunately, now that the WHO has decided that IGD is a disorder, it's likely that research like the latest study will treat it as its own pathology and not as a potential symptom of an undiagnosed condition.
Nonetheless, Sun and her co-authors plan to move forward with this research by examining how different brains may be especially vulnerable to problematic gaming.
"I think future research should focus on using functional MRI to identify brain susceptibility factors relating to the development of IGD," she said.