Universal Breaks Global Box Office Record for a Movie Studio
They made some serious bank.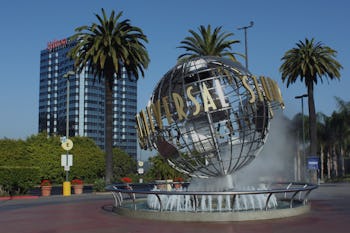 www.flickr.com/photos/prayitnophotography
Universal Pictures now has the enviable bragging rights of being the biggest bosses in Hollywood history. The studio's 2015 slate of films just broke the record for the highest grossing year ever for a Hollywood Studio, making $5.53 billion so far. The best part is, it's only August.
Universal beat out previous studio champ Fox, whose hits like Gone Girl, Dawn of the Planet of the Apes, and X-Men: Days of Future Past helped them collect the sum of $5.5 billion last year.
Universal's hit parade began earlier this year with Furious 7 (worldwide gross: $1.5 billion), followed by Jurassic World (worldwide gross: $1.56 billion), Minions (worldwide gross: $856.9 million), Fifty Shades of Grey (worldwide gross: $569.7 million), and Pitch Perfect 2 (worldwide gross: $283 million).
But it wasn't all home runs for Universal. Earlier this year director Michael Mann's first movie in six years, the cyber thriller Blackhat, failed to live up to its auteurist pedigree and its $70 million budget, grossing only $17 million worldwide. Also, though it ended up being somewhat profitable, Ted 2's $160 million gross failed to live up to the over $500 million returns on the first movie.
The studio definitely stacked their cards against prestige pictures in favor of rolling out tentpole releases during the summer blockbuster season. It makes sense because people are willing to continually go back to the theater again and again if the spectacle is that good.
Universal has a few potential hits in their schedule that could add to their gajillion-dollar tally. The NWA biopic Straight Outta Compton drops this weekend, Aaron Sorkin and Danny Boyle's Steve Jobs movie will be released in October, and so will Guillermo del Toro's gothic creeper Crimson Peak.
There seems to be nothing but more dollar signs ahead for Universal.