'Fortnite' Gifting Adds a Brilliant Money-Grab in Time for the Holidays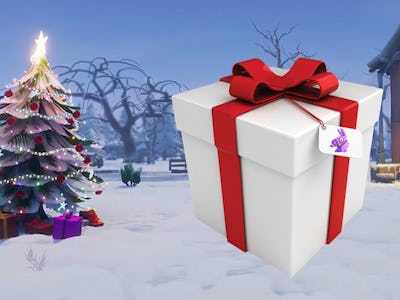 Epic Games
Just in time for the holidays, Fortnite: Battle Royale now has the option for players to buy each other cosmetic items, so Epic Games is about to make a ton of money. The company couldn't have picked a better time to introduce this new gifting system.
Epic Games added "Gifting" to Fortnite in a surprise update on Tuesday, noting in a blog post that the feature will be live for one week on all platforms except for iOS. Apple prohibits gifting, apparently, which really just ruins the Christmas spirit of consumerism.
Get a free Battle Pass tier by claiming the Week 9 Hunting Party Secret Battle Star:
The gifting system in Fortnite is really straightforward. In the Fortnite Item Shop, when players go to purchase an item they can now select either "Purchase Items" or "Buy As a Gift". Then it's as simple as selecting which friend to send it to. There's even the option to add a personalized message, a nice touch that'll no doubt lead to some pretty silly trash-talking.
Players can seemingly only gift items actively available in the Item Shop, and it's limited to actual cosmetics. So they can't gift V-Bucks, Battle Pass Tier bundles, or entire Battle Passes. That limits options to outfits, pickaxes, gliders, back bling, and emotes.
Gifting comes with some other limitations as well. Multi-factor authentication has to be enabled on the gifter's account, and the two parties have to have been friends for at least 48 hours. Someone can also only send three gifts per day. These types of restrictions are no doubt in place to prevent hackers from gaining access to accounts and spamming gifts elsewhere.
In the blog post, Epic Games writes, "This initial gifting period will last one week after the release of the update." That basically means that for the rest of Season 6, Gifting will be available to players, and it'll end just as the season does. Chances seem really high that it'll only be gone for a couple weeks. Reactivating Gifting for Christmas seems like a no-brainer in terms of making money for Epic Games.
Gifting is available in Fortnite as of November 27 and it should end around November 4.
Check out the latest episode of Squad Up, the Inverse talk show that takes place entirely inside Fortnite. Follow us on Twitch!