A Campaign to Delete Apple's Gun Emoji Targets Tim Cook
Can pistol emoji control lead to a meaningful conversation about the real deal?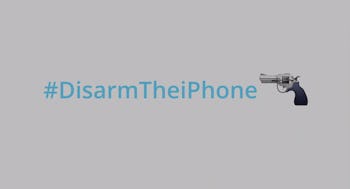 YouTube
A young campaign to convince Apple to pull the iPhone's gun emoji has been met with mixed reviews. Check the #DisarmtheiPhone tag on Twitter and you'll find a lot of mocking reviews and as many in favor. Even firearms of the tiny, cartoon variety turn Americans into bickering tribes.
This is nothing Leah Barrett doesn't already know. Barrett is the executive director of New Yorkers Against Gun Violence, which launched the hashtag less than a week ago asking supporters to target Apple CEO Tim Cook. And Barrett, whose brother was shot and killed in 1997 and who has more personal experience with gun violence than anybody wants to have, isn't expecting emoji control alone to save lives.
"I just got an update from an ad agency this morning asking 'Don't you have better things to do?'" Barrett told me. "But the point is that this is a symbolic act. It's something to get people thinking and talking. It's about a campaign that shows the power of the gun in our culture."
The symbolism of emojis has spilled into the public sphere in the past year, with jackasses on social media getting arrested for appearing to threaten police with the juxtaposition of cop emojis and pistol emojis. So far there's been no direct response from Apple, though it's a compliment to the company's branding that NYAGV picked them because it seemed the most reasonable to have a conversation with. Perhaps coincidentally, it also has the most realistic pistol among the major players' emojis.
"Apple isn't unique for having a gun emoji, but Apple is a socially responsible company," Barrett said.