Bitcoin Price Falls Below $5,000, Erasing What's Left of the Bubble's Gains
It's a pre-Thanksgiving bloodbath. 
by James Dennin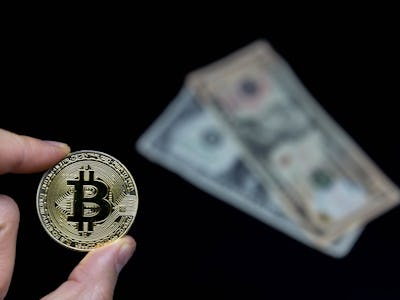 Flickr / wuestenigel
Last year, all the newly enriched bitcoin bros went home to see their families for Thanksgiving, and in doing so took the opportunity to spread the decentralization gospel. Bitcoin prices went through the roof at least in part on the strength of all the nOOb buyers, and the price for both bitcoin and ether set records the following weekend.
This year, it's safe to say that crypto enthusiasts will be spinning a different yarn around the dinner table. As of Monday afternoon, bitcoin prices sunk below $5,000 per coin for the first time since last October, effectively erasing what remained of the 2017 bubble's gains. It's never immediately clear why a price goes up or down on a given day, but bitcoin's most recent moves are the extension of a trend that's carried on for pretty much all of 2018.
Bitcoin's status as last year's dubious-investment-tip-of-choice, coupled with its lamentable performance in the year that followed, has already been turned into something of a meme.
Is the Thanksgiving Effect Legit?
There is actually some reason to think that the Thanksgiving effect was a real factor in accelerating the bitcoin bubble's highs. Between November 12 and November 27 alone, Marketwatch notes that the price for bitcoin improved by 40 percent, a stunning gain for just 2 weeks. And that, as it turned out, was only the beginning: Bitcoin went on to continue rallying for most of the holiday season, before finally hitting the top just shy of $20,000 per coin on December 17.
Bitcoin is not the only boom that's been known to follow your annual turkey binge. The stock market also tends to do well the week following Thanksgiving, according to a review of the data from Bespoke Investment Group and reported by CNBC. Market psychology magnifies this effect, the post Thanksgiving stock run is bigger in years that the market did well.
This makes sense if you think about it. When we're around family we haven't seen in a while, or attending a high school reunion of some kind, we tend to be loud with the boasts while hoping that no one remembers our wrong predictions from last year. This may not be the case with bitcoin, whose proponents tend to be ideologically driven. But it's still hard to see people breaking out Coinbase referral codes with a belly full of stuffing and red wine as they seemed to do in 2017.
Fortunately, as long as you were lucky enough to avoid buying in between Thanksgiving and mid-December, you're probably doing fine. It's a testament to the way we fixate on memorable stories at the expense of a bigger narrative (that, between this and last October, bitcoin's price was largely unchanged). It also goes to show how much we rely on people we know to help process an over-abundance of information, for better and for worse. This Thanksgiving, remember that even the "best" investment tips can still lead us horribly astray.