Get 62 Percent Off the Earbuds That Make Apple's AirPods Obsolete
The Bluetooth lookalikes have been upgraded. The AirPods haven't.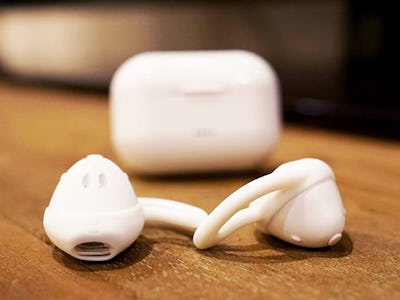 Apple's AirPods look and feel great, sure, but they come with a $150 price tag to match, and sound quality has never been the utmost priority for the company's proprietary listening devices. With Black Friday approaching, the Air Bud 2.0 earbuds are not only an upgraded version of our favorite headphones of the year, but they put Apple to shame in just about every category. Oh, and they're 62 percent off right now.
The Air Buds 2.0 are small, sleek, and you won't even notice them in your pocket when they're out of use. Their case holds an additional 10 charges so you'll never run our of battery, and Bluetooth 4.2 technology means you'll never hear a dropped note, even in highly populated areas. Moreover, these headphones come with a IPX8 waterproof rating, something owners of the AirPods have been crying out for for a long, long time. Stay connected, enjoy your playlists, and stay trendy with these awesome, highly flexible earbuds.
Normally 99.90, you can save 62 percent on the Air Buds 2.0 right now at the Inverse Store, and pick up a pair for just $36.99