With Strava App, NYC Man Spells Out Powerful Election Day Message
"Fight for freedom in any way you can!" exclaimed the cyclist.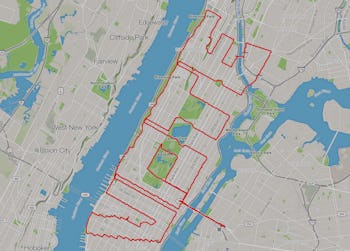 Strava, the popular app that tracks your exercise with GPS, whether it be on your bicycle or your morning run, has enabled creatively minded people to turn their city's map into a canvas. In this spirit, a New York man's 44-mile bicycle ride on Sunday spells out an election day imperative: "VOTE."
Sylvester Zawadzki, a photographer in the city, rode his bicycle throughout parts of Manhattan and the Bronx ahead of Tuesday's midterm elections. (Here's the Strava link to the ride.)
"I just hope people get out there to vote, especially if they are using their bike to go vote," Zawadzki tells Inverse.
He tells Inverse he planned out his route a few weeks ago over a few hours, and if you're looking at the map and asking how much often had to go against the flow of traffic, Zawadzki says he used the relative quiet offered by the city's Sunday evening traffic to his advantage: He pedaled against the flow of traffic for about 15-20 percent of the ride.
Strava data shows Zawadzki's average speed for the trip was 13.3 miles per hour, so it was more of a cruise than a sprint for the art project/ride that lasted some three hours, 45 minutes.
"Made on a bicycle last night by using the Strava app in support of democracy in America. Fight for freedom in any way you can and by all means necessary!" he commented on his Instagram account when he shared the image on Tuesday:
Strava art is nothing new for creative cyclists who want to use their bicycle's path as a sort of digital pen that draws across a map. Cyclists and runners use GPS tedch in Strava and other apps to digitally draw all sorts of objects with their feet or their tires — dinosaurs, people, turtles, and yes, penises are popular, too. The routes show up in the activity feed of other Strava users who follow them.
Zawadzki says the "VOTE" ride was his first attempt at Strava art, and that he used Google Maps to draw out his route before he got on his titanium road bike for the journey.
See also: Strava's Beacon Feature Could Tell People If You're in Trouble
"This is the first one for me but there's definitely more that I'd like to do," he says. "Whether they are personal or political or just funny, that's yet to be seen."
Email the author: nick@inverse.com.