Day of the Dead: 25 Stunning Photos Showing the Holiday's Color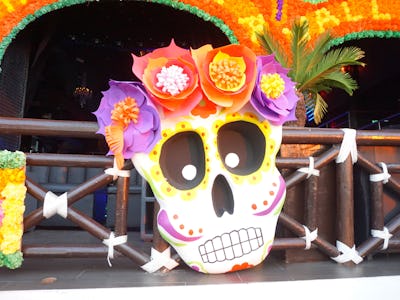 Andrew Milligan sumo, Flickr
Known for its explosions of joy and color, the Day of the Dead (Día de los Muertos) has never been grim, despite the name. The holiday, with origins dating back to the Aztec empire, honors the deceased and invites them home for a celebration with the family. From parades in the streets to intimate altars built at home, the Day of the Dead injects November 2 with striking color.
Friday's Google Doodle honoring the Day of the Dead made use of many symbolic colors, including red candles, yellow-orange marigolds and hot pink skulls.
Each color holds special meaning. Black, often used as a background color, represents the land of the dead. Purple, often used for candles, symbolizes pain and suffering as a nod to the hardship of losing loved ones. In contrast, pink stands for the joy and celebration of family reunion. White represents purity, orange represents the sun, and yellow (the color of marigolds) symbolizes both light and death. Finally, red represents blood.
Here are some of the most stunning images people are sharing on Instagram of these colors in action: