A 'Pez' Movie Is in Development and Will Be Dispensible
To be eaten and quickly forgotten.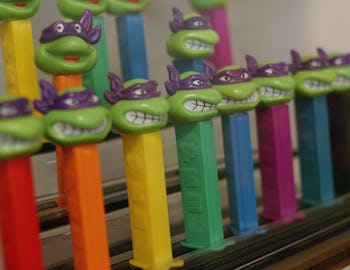 Getty Images
An animated feature film based on Pez is coming. Yes, the chalky, tasteless candy you lick from the decapitated necks of cartoon characters. That's going to be a movie. Just like the emojis.
Envision Media Arts has acquired an "exclusive agreement" with PEZ Candy Inc. to develop an animated movie, according to Deadline. Cameron Fay (Brother In Laws) is penning the script.
"PEZ Candy is beloved by children and adults alike," said Lee Nelson, EMA CEO and founder. "With Cameron Fay we've created a world unique to Pez and a story that will touch the hearts of many."
Created in Austria some 88 years ago, PEZ has been available in grocery store aisles worldwide. No doubt this movie is chasing after the collector's market, which is inexplicably alive and well, with a Pez convention in Ohio last month. I can already see the Comic-Con exclusive PEZes going for obscene prices on eBay. Imagining that is leaving a bitter taste in my mouth, just like eating Pez.