So, Yeah, Sony Is Producing an Emoji Movie
There was a bidding war. For an emoji movie. Nothing in the world makes sense anymore.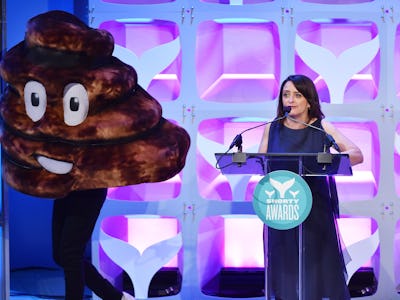 Getty Images
Sony is making an emoji movie. There is going to be an emoji movie. This is real. :emoji_nodeal:
In a deal containing SEVEN FIGURES, Sony beat out Warner Bros. and Paramount for the rights to an animated feature film based on emojis. So yes, there will be an expensive, 90-minute (or more!) film that people will earn a living working on that will predominantly use the little pictures you text to girlfriends/boyfriends/side-pieces/Instagram crushes on the daily.
Comparisons to The Lego Movie are inevitable, and it's true no one thought a movie on yellow toys that hurt to walk over on bare feet could make for an emotional, satisfying experience. But unlike The Lego Movie, there aren't associated copyrights to wrangle for and also it's emojis. There is a copyright on those things, but no one buys emoji merch except ironic teenagers and their unironic "hip" aunts.
You know what there isn't a copyright of? Good ideas.
The film will be co-written by Eric Siegel and Anthony Leondis, who will also direct. Leondis has previously directed Kung-Fu Panda bonus features and the upcoming B.O.O.: Bureau of Otherworldly Operations, starring Bill Murray, Melissa McCarthy, and Seth Rogen. I'm assuming it's a comedy. Siegel is a writer who has sold shows to networks like Fox and NBC and served as a producer on TBS's Men at Work.
A release date is not yet known. :emoji_relieved: