Elon Musk Responds to the Tweet That Cost Him and Tesla $20 Million Each
Musk agreed to pay the Securities and Exchange Commission.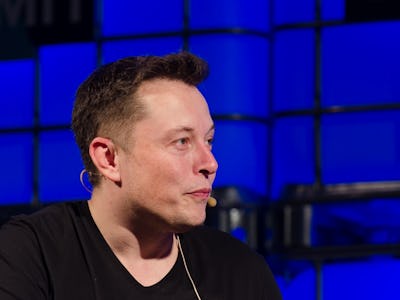 Flickr / Web Summit
Elon Musk is relatively unfazed by his August Twitter post that ended up costing him $20 million, the Tesla CEO suggested on Saturday. Musk paid the Securities and Exchange Commission after he claimed in a tweet that he had the "funding secured" to take the company private at $420 per share, a claim the commission described in a complaint as false and misleading.
Musk wrote on Twitter that the social network is "so hardcore" and "great," as "likes are rare and criticism is brutal." He compared the feeling of the site to Instagram, claiming that 10 percent of Instagram followers "like even lame posts," whereas on Twitter good posts only get likes from one percent of followers. Twitter user James Patten responded to the comments by asking about the "like ratio" on his August 7 tweet that led to the commission taking action, which Musk responded to by stating that it was "worth it."
See more: Elon Musk's Settlement With SEC Is Official After Judge Approves Deal
Musk agreed to pay up after his tweet led to an investigation from the commission. A follow-up post detailing the plans to go private explained that he left a meeting with the Saudi Arabian sovereign wealth fund with "no question" that a deal could be struck on funding. The commission's complaint stated that "Musk had not even discussed, much less confirmed, key deal terms, including price, with any potential funding source." As part of the settlement, Tesla also agreed to pay $20 million and Musk agreed to step down as chairman for three years.
Musk may be right about Twitter being brutal in terms of its distribution of likes. His "funding secured" tweet got 88,700 likes, which considering the CEO has 23.4 million followers means that around 0.4 percent of followers liked the post. As part of the settlement, Musk agreed to governance changes that place greater oversight on his Twitter posts, famously used for off-the-cuff product announcements and feature approvals. That didn't stop him from tweeting after the settlement that the "Shortseller Enrichment Commission is doing incredible work," a tweet that received 36,800 likes.
Musk is expected to step down as chairman before the end of the year, paving the way for an independent candidate to lead the board of directors.
Musk received a lot of input during the dispute, including from entrepreneur Mark Cuban.