Best Smart TV's: 12 Smart TV's for Every Type of Budget
When it's time to upgrade your television to the latest, don't go broke in the process.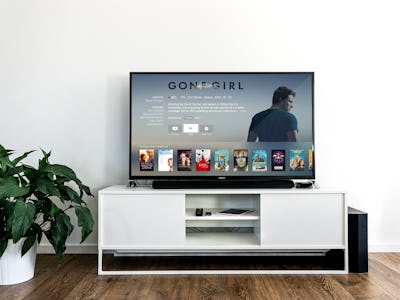 Unsplash / Jens Kreuter
Whether you've just moved to a new apartment and want a new television to go with it, your old one finally crapped out or you're just not able to watch sports in the high definition you'd like. Whatever your reason, you're here because you're looking for a new TV and I'm here to assure you that there is one that you can afford.
In the year 2018, smart TVs are the latest in technology. They connect to the internet, have apps installed and are about as high-tech as our computers at this point. But with all new tech, it can seem like the price tag is more than what you're used to spending. It doesn't have to be that way and you don't have to wait for one of those Black Friday "free tv with purchase" deals to stay within your budget.
On this list you'll find the crème-de-la-crème of smart TVs, but you'll also find affordable options with minimized compromise.
Toshiba 43in 4K Ultra HD Smart LED TV
Best Feature: Equipped with Amazon Fire, as long as you have an Amazon Prime subscription, the entire library is available to you without additional set up. And if a show or movie you're looking for is not on Amazon, never fear, because Hulu, HBOGo and Netflix are also available at the click of your remote.
Price Range: $300 and under, $299.99
What Customers Have To Say: Customers love how quick and easy set up is as well as ease of use with Alexa enabled voice command.
Sony 65-Inch 4K Ultra HD Smart LED TV
Best Feature: With High Dynamic Range (HDR), there is no better picture with more vibrant colors than this option. You ever watch a show on an HD television and everything looks faker than usual? Like you can tell they're on a set? That's what you'll get with this one.
Price Range: Over $1,000, $1,398.00
What Customers Have To Say: Customers agree that the picture quality is unmatched by anything they've seen before and that for this price point, they see their money being reflected in the quality.
TCL 55S405 55-Inch 4k Ultra HD Roku Smart TV
Best Feature: With Roku included, this option negates all possible need for purchase of an additional streaming provider. And it's currently on sale for $220 less than its usual price.
Price Range: $400 and under, $379.99
What Customers Have To Say: Customers agree that they didn't think they could afford a television as good as this one. For the price point, each consumer was shocked at the quality without having to spend a whole month's rent on it.
Samsung 55NU71000 55-Inch 7 Series Smart TV
Best Feature: PurColor promises millions of shades of color, fine tuned to ensure a crisp picture better than anything you've seen outside of real life. Additionally, access all streaming services without looking for the proper control using the all-in-one remote. And it's on sale for a $150 discount
Price Range: $600 and under, $547.99
What Customers Have To Say: Even as a smart TV, this option boasts 3 HDMI inputs, which allow you to have multiple gaming consoles and even a DVD player before you have to consider unplugging anything. Customers were most impressed with the sound quality for such a thin television.
Samsung UN82NU8000 65-Inch UHD 8 Series Smart TV
Best Feature: At a refresh rate of 240 hertz, compared to your average smart TV, this television leaves them in the dust.
Price Range: Over $1,000, $1,197.00
What Customers Have To Say: Customers in general weren't impressed with the smart capabilities of this TV, especially for the money. However, one reviewer put it in perspective by suggesting that the picture and sound were so good that buying a separate streaming console made it even better.
LG 55UK7700PUD 4k Smart TV with ThinQ
Best Feature: ThinQ and HDR combined deliver the best possible picture without jutting off your wall half a foot or requiring several people to carry it like in the olden days.
Price Range: Under $800, $746.99
What Customers Have To Say: Most customers seem to be in agreement that they wouldn't have spent more for something better, but had enough with lower quality teleivisons without smart capability.
Samsung UN32M4500A 32-In Smart LED TV
Best Feature: Live TV and Smart TV are instantly interchangeable for even the most technology illiteriate. With one remote, there's no barrier to accessing any media you wish with this afforable option.
Price Range: Under $300, $217.00
What Customers Have To Say: While this one is a smaller TV than many of the others on this list, nearly every reviewer to purchase it, touted it as "the best little tv around."
Toshiba 32LF221U19 43-Inch Smart LED TV
Best Feature: When it comes to buying a tv, bigger isn't always better and it certainly isn't always affordable. This smart TV comes equipped with Fire TV and all the trappings of an expensive TV without the price tag.
Price Range: Under $300, $249.99
What Customers Have To Say: With only a few things to set up, watching this teleivision is possible in 10 minutes or less.
Element ELEFW348R 24-Inch Smart HDTV
Best Feature: For this refurbished model, the best feature is its affordability. But with the addition of "wall art technology," you can hang this in any room and cycle through your favorite digital art without making the TV a focal point of the room.
Price Range: Under $100, $88.00
What Customers Have To Say: Almost everyone who purchased this TV had purchased it for a child and didn't feel like they wanted to shell out the big bucks for said purchase. It's great as an extra computer monitor or a small kitchen or office TV for a less cinematic experience than a bigger screen.
Sony KD43X720E 43-Inch UHD SmartTV
Best Feature: Youtube and Netflix buttons are built into the remote so again, this is a particularly accessible option for even the most technology illiterate in the family.
Price Range: Under $500, $498.00
What Customers Have To Say: Several five star reviews say that this tv blows all others out of the water. With 4K resolution, there is no going back to traditional HD.
Sceptre X328BV-SR 32-Inch Smart LED TV
Best Feature: Well under 10 pounds, this is a tv that can move with you anywhere without hassle. Additionally, USB plug-in capability allows you to play music or upload photos for a great focal point at your next party.
*Price Range: Under $200, $125.58
What Customers Have To Say: For such a small tv, users have been notoriously proud of how loud it can get compared to other televisions of the same size.
Hitachi 43RZ5 43-Inch Roku Smart LED TV
Best Feature: You have the option to connect both wirelessly and through Ethernet if you find one provides better streaming than the other, you're able to switch them interchangably.
Price Range: Under $300, $249.99
What Customers Have To Say: Customers love the option to watch DIRECTv through the Roku rather than continuing to play skyrocketing cable prices or fuss with switching from one input to another.