Christmas Gift Ideas: 15 Simple but Wonderful Ideas for This Holiday Season
It'll be here before you know it. Show appreciation for the wonderful people in your life with these great gifts.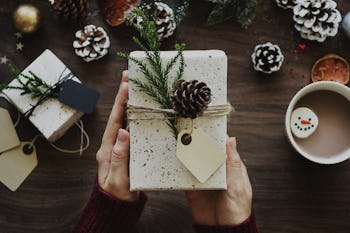 Pixabay
I write this less than a week before Halloween and already all gears have been switched to the pending holiday season. Before you know it all your ads will switch to Black Friday/Cyber Monday markdowns and before you even have a chance to accept that the season is here, you'll already be behind.
A good friend once gave me the best gift advice I had ever heard and because it's guided by gift buying praxis for the better part of the last decade, I share it with it. Listen to what your loved ones are talking about throughout the entire year. Buy the thing that made you think about them in a store and save it for the holidays.
You'll minimize stress. You'll build a stockpile of great gifts for your favorite people. They'll know you were listening and it's a win for everyone. But for those of us who aren't big shoppers, don't see our friends nearly as much as we should or strive on tacit procrasination, this is a list for you to knock it out of the park this year.
Below you'll find 15 simple but wonderful gift ideas for the great people in your life.
Good Gift For: Your Favorite Home Body
Why It's Worth Picking Up: For your friend or relative that loves to watch every trending show every weekend firmly stationed between their couch and their bed, a weighted blanket is a must-have for optiminal relaxation. This is perfect for an introvert who craves the weight of a small person without the bad breath. Proven to decrease stress and anxiety, there is no better way to support self-care than with the gift of a weighted blanket.
Good Gift For: Anyone Who Lives Anywhere It Drops Below 60 Degrees
Why It's Worth Picking Up: It's no coincidence that Christmas arrives smack dab in the middle of the cold winter months when we need the warm fuzzies the most. Give the gift of a wearable teddy bear and rest assured that they don't go cold while skiing, walking to the office or at a mutual friend's unseasonable outdoor day drink.
Good Gift For: Your Friend Who Holds Their Cards And Cash Together With A Rubberband
Why It's Worth Picking Up: It sucks to spend money on a wallet when you are just going to put money back into it. It's one of those things that's just better to be gifted. Give the gift of convenience to your friend who takes the longest to find their credit card in line at the bar. With 4 card slots, this is the perfect everyday and travel wallet. Made with genuine leather, they'll have it forever.
Good Gift For: The Person In Your Life Who Works In Coffee Shops All Around The World
Why It's Worth Picking Up: Leather lasts forever!! If you're not vegan, it smells delicious and there's nothing that feels better in your hand than well-loved leather from a well-loved confidante. In addition to being made of said delicious leather, this cord organizor keeps headphones, chargers and any other cords you may need often and on the go untangled and easy to access.
Good Gift For: Your Friend Who Just Moved or The Bath Addict In Your Life
Why It's Worth Picking Up: There's nothing like the smell of the woods but not everyone wants to actually go there. To bring the smell of nature inside without bringing all the bugs, this is the best way to go. A candle is a gift that doesn't do too much without doing too little. Give this gift as a subtle, "I'm thinking of you" without spending more than your loved one would feel comfortable with.
Good Gift For: A Watch Lover or Someone Without A Good Watch
Why It's Worth Picking Up: Nothing pulls an outfit together better than a watch. Give the gift of time to the person in your life who constantly asks for the time. Maybe they just got a new job and have to start figuring out what it means to dress "business casual." Help them get there with a watch that looks good in formal and informal environements all the same.
Good Gift For: The After-A-Long-Day Whiskey Drinker
Why It's Worth Picking Up: With a matte black exterior, these glasses look good in hand and on display. Specially designed to enchance the aroma of your favorite whiskey while giving the flavors a chance to really shine, nothing says, "I know you" better than providing gear for a favorite passtime.
Good Gift For: Your Brother-In-Law Who Won't Cut His Beard No Matter How Many Times Your Sister Asks
Why It's Worth Picking Up: Anyone with a beard knows that it takes maintenance and care otherwise it's an eye sore. I've talked a lot about the gift of self-care to a loved one and this one is no different. Show your favorite bearded person some love and support by giving them a high quality gift set complete with beard balm and oil, pocket beard comb, and boar beard brush. You'll be helping out your sister too as I'm certain she'll be surprised at just how soft the unruly beard can get.
Good Gift For: The Friend Who Loves To Collect The Good Stuff or The Cousin You Don't Quite Know As Well As You'd Like
Why It's Worth Picking Up: In the nail polish community of aficionados, Zoya is a beloved brand. Whether your friend loves nail polish already or just kind of casually paints their nails, the formula is free of big-10 and formaldehyde so as far as nail polish goes, this is a "healthy" as it gets.
Good Gift For: For The Instagram King Or Queen In Your Life Living Their Best Curated Lifestyle
Why It's Worth Picking Up: It's 2018—soon to be 2019—and mirror pics have no end in sight. Give the gift of great photos and interior design to the person in your life that loves to take a good pic of themselves. It can hang vertically or horizontally so they can ultimately make whatever decision works best for their current aesthetic.
Good Gift For: Does It Get Cold Where They Live? Everyone Needs These
Why It's Worth Picking Up: In the cold winter months, everyone needs gloves but no one wants to buy them. And for those of us that are hopelessly addicted to our touch screen devices, gloves can be more hassle than their worth. Keep palms warm while still being able to send a zealous text to a friend gabbing about the current thing.
Good Gift For: Your Mother, Your Aunt, Your Mother-In-Law or Anyone Who Doesn't Have Their Own Apron But Desperately Needs One
Why It's Worth Picking Up: There's nothing worse than giving someone a gift they'll never use. Give the gift of utiliarian style and say thank you for all the meals this person has inevitably cooked for you. In a beautiful flower design, give a reminder of spring when people need it the most.
Good Gift For: The Person Who Only Has Posters On Their Otherwise Bare Walls
Why It's Worth Picking Up: Unless you know someone who literally hates plants, you'll be hard pressed to find someone who wouldn't enjoy some plant diagrams hanging on their walls. Like wallets and mittens, wall art kind of comes as an afterthought and it's not super fun to buy for yourself. This set would look perfect in a home office, kitchen or bathroom with wall space.
Good Gift For: The Cook In Your Life Or The Friend That Doesn't Have More Than 1 Skillet
Why It's Worth Picking Up: There is nothing more useful in a kitchen than a cast iron skillet. Bake a pie in it. Sear a steak and then put it right in the oven. Make the best pancakes you've ever had. Hate doing dishes? Never wash this one.
Good Gift For: The Person Who Spends Too Much Money At The Coffee Shop
Why It's Worth Picking Up: Cold brew is here and it's not going anywhere. For those who have had it and fallen in love, there's no subsitute but it can be kind of difficult and time consuming to make at home without the right tools. Give the gift of money-saving to the person in your life that drinks 3 cold brews a day with no signs of stopping.