JUUL's Twitter Following Raises Alarm Among Vape Researchers
"This presents a major public health concern."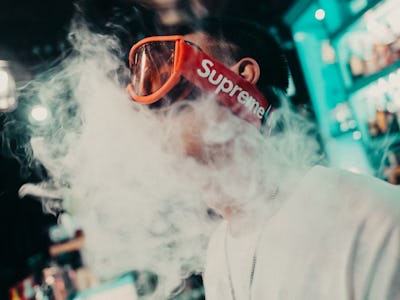 Unsplash / journey yang
JUUL e-cigarettes are wildly popular among teenagers, and the company swears it has nothing to do with it. But a new Journal of Adolescent Health study tells a different tale: According to an analysis of the official JUUL Laboratories Twitter account, 1 in 4 of the company's followers is underage.
This news comes at a bad time for the Silicon Valley e-cigarette startup, which was recently called out by US Centers for Disease Control and Prevention for appealing to teens in order to drive its explosive growth. The study's first author, Kar-Hai Chu, Ph.D., an assistant professor of medicine at Pitt's Center for Research on Media, Technology and Health, is ready to call the company out as well.
"JUUL representatives have said the company is not trying to target adolescents with their advertising or sales, but our research clearly indicates that a sizeable proportion of their Twitter audience is exactly this population," said Chu.
Teens Love JUUL
In the study, published Friday, researchers at the University of Pittsburgh and the University of Southern California analyzed users who engaged with the 3,239 tweets sent by @JUULvapor between February 2017 and January 2018. By examining the social media presence of the users retweeting these tweets, the study's authors found that a quarter of them are younger than 18, the legal smoking age in most US states.
"This study suggests that JUUL's official Twitter account is being followed — and its messages are being retweeted — by adolescents," write the study's authors. "This presents a major public health concern because e-cig marketing exposure increases the adolescent risk of ever use of e-cigs. In particular, adolescents exposed to e-cig messages online are more likely to initiate tobacco use later in life."
But Is JUUL Really Targeting Teens?
On September 28, the Food and Drug Administration raided the JUUL headquarters, seizing thousands of pages of documents as part of its investigation into whether JUUL is intentionally marketing to teens. The investigation is part of a broader effort by the FDA to curb what it calls a vaping "epidemic."
Supporting the notion that vaping is an epidemic, the new study shows that JUUL tweets young people are retweeting can end up reaching other Twitter users who are up to 4 degrees away from @JUULvapor. In other words, JUUL's tweets are attractive or interesting enough to young people that they're boosting the company's signal and helping it reach other young people.
But JUUL's vapes are not explicitly marketed to young people, which complicates the reasons for its popularity among teens. It's hard to tell what exactly young people find attractive about JUUL's tweets, as they mostly feature older smokers — a strategy that seems to be aimed at dispelling the notion that the company markets to teens.
In a statement from JUUL Labs, spokesperson Ted Kwong unambiguously refuted the notion that the company targets teens:
We cannot be more emphatic on this point: no minor or non-smoker/vaper should ever use JUUL products. Underage use is directly opposed to our mission of eliminating combustible cigarettes by offering the world's one billion existing adult smokers a true alternative. That is why we have taken numerous actions to prevent and combat underage use, including focusing our website and social media exclusively on the adult smoker community and removing all product-related content from our social media accounts. Since 99.7 percent of JUUL mentions on Twitter are generated by other users, we have also aggressively worked with social media platforms to remove posts and accounts that portray our product in unauthorized and youth-oriented manners. In just six months this year, we helped remove over 8,000 listings, 450 accounts and 18,000 online marketplace listings. We stand committed to working with those who want to keep nicotine products out of the hands of young people.
A Tool to Quit — or Start — Smoking
Regardless of what's driving it, Chu says that JUUL's popularity is "highly concerning because adolescents exposed to e-cigarette marketing are more likely to use e-cigarettes and, in turn, young adults who use e-cigarettes are four times as likely as their non-vaping peers to transition to smoking traditional tobacco cigarettes."
So while e-cigarettes are typically marketed as a way to transition away from cigarettes, researchers are finding that young people may actually transition from vaping to smoking.
Unfortunately, it's challenging to govern whom a company's Twitter account reaches. Twitter's rules prohibit tobacco and e-cigarette brands from promoting tweets, but there's nothing to stop users from following the accounts. The study's authors suggest that some kind of age gateway could help, but this would require the cooperation of Twitter, a company that's been resistant to changing its policies.
For now, though, hopefully teens will just get turned off by all the videos of older people on the JUUL Twitter account.
Update: As of 2:11 p.m. Eastern, this story has been updated to include comment from JUUL Labs.