Why Vaping Is an "Epidemic" and Why It Will Be Tough for the FDA to Stop It
Vaping has reached 'nothing short of an epidemic proportion of growth.'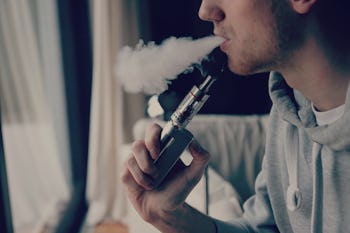 Wikimedia Commons
Vaping has become so prevalent that it's easy to forget that electronic cigarettes were only introduced in the United States in 2006. Twelve years later, the Food and Drug Administration appears to regret the its relaxed stance on the devices.
This week, FDA Commissioner Scott Gottlieb, M.D., announced that, despite their potential to help adult smokers transition from combustible tobacco products, the current acceleration of e-cigarette use by teenagers is cause for alarm.
Essentially, teens aren't vaping to quit cigarettes; instead they've "invented a new kind of bad habit," according to a memorable recent assessment in The New Yorker.
Vaping: "An Epidemic"
The commissioner says that use of e-cigarettes by teenagers has now reached "nothing short of an epidemic proportion of growth." In a briefing with reporters Gottlieb said that in 2017 more than two million middle and high school students were regular users of e-cigarettes.
In his statement, Gottlieb emphasized that calling the teenage use of e-cigarettes an epidemic was nothing something to be taken lightly, explaining:
I use the word epidemic with great care. E-cigs have become an almost ubiquitous — and dangerous — trend among teens. The disturbing and accelerating trajectory of use we're seeing in youth, and the resulting path to addiction, must end. It's simply not tolerable. I'll be clear. The FDA won't tolerate a whole generation of young people becoming addicted to nicotine as a tradeoff for enabling adults to have unfettered access to these same products.
What's the Definition of an "Epidemic"?
The CDC and the FDA define an epidemic as "the occurrence of more or more cases of disease than expected in a given area or among a specific group of people over a particular period of time." An outbreak, meanwhile, would be an epidemic limited to localized increase in the incidence of the disease.
While the word "disease" is used here, the FDA has previously used the phrase 'epidemic' to describe situations where a massive amount of people are at risk because of a substance. The opioid epidemic and the tobacco epidemic are two instances in which the phrase was considered appropriate.
When Vaping Became So Popular
And the occurrence of e-cigarette smoking among teens has massively expanded in a short period of time: According to a 2016 Surgeon General report e-cigarette use grew by 900 percent among high school students from 2011 to 2015.
The CDC also states that in 2017 approximately 3.3 percent of middle school students reported they used e-cigarettes in the past 30 days, an increase from just 0.6 percent in 2011. Meanwhile, among high school students in 2016, nearly 12 out of every 100 students did the same — an increase from 1.5 percent of high school students in 2011.
That's a problem when the use of e-cigarettes is far from healthy. While they are less risky than regular cigarettes, almost all include nicotine, an addictive substance that can negatively affect adolescent brains. Scientists are also concerned that e-cigarette use can contribute to DNA damage associated with oral cancers.
How Does One Stop a Teen From Vaping?
(Good luck.)
How to combat teen access, and interest in, e-cigarettes is something that the FDA is currently attempting to figure out. The fact of the matter is that vaping is seen as cool; schools across the country have reported an increase of teens sneaking e-cigarettes onto campus with some schools even installing sensors to catch them in the act.
Vaping has a huge presence on Instagram; teens show off smoke tricks and Juuls are presented as status symbols.
The FDA says that device makers have 60 days to prove they can keep teens from buying their products and if they fail they're at risk of being removed from the market entirely. According to the National Institute on Drug Abuse, seven out of ten teens are exposed to e-cig ads.
Juul — the preferred brand of teens — spokeswoman Victoria Davis tells The New York Times that the company is having problems getting Instagram, Facebook, and Amazon to take down ads geared towards youths. Epidemic or not, e-cigarettes still sell.
See also: The Medical Reason Some People Vape Out Their Ears