Facebook Just Hired Nick Clegg and the Internet Cannot Believe It
Nick Clegg is set to head up global affairs.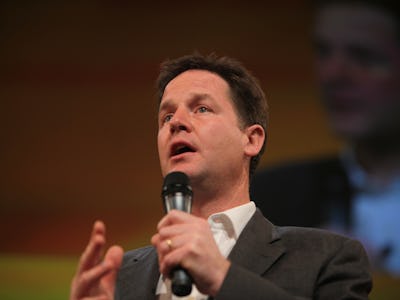 Flickr / Liberal Democrats
Facebook announced on Friday that it has hired Nick Clegg to head its global affairs and communications, a surprise decision that left observers stunned. The 51-year-old former deputy prime minister of the United Kingdom is expected to move to Silicon Valley in January, taking over from Elliot Schrage.
While largely unknown on the global stage, Clegg is a household name in Britain. In 2007, he became leader of the centrist Liberal Democrats, then regarded as the third force in British politics. Ahead of the 2010 election, the party surged to first place in the polls as part of the "Cleggmania" phenomenon, offering a perceived fresh alternative to Labour and the Conservatives. This failed to materialize on election day, and Clegg instead struck a deal with the Conservatives to govern together as a coalition. Voters punished the "Lib Dems" at the 2015 election, and the party lost nearly 90 percent of its seats.
Accepting his new role at Facebook, Clegg wrote the following as part of his statement:
Facebook, WhatsApp, Messenger, Oculus and Instagram are at the heart of so many people's everyday lives – but also at the heart of some of the most complex and difficult questions we face as a society: the privacy of the individual; the integrity of our democratic process; the tensions between local cultures and the global internet; the balance between free speech and prohibited content; the power and concerns around artificial intelligence; and the wellbeing of our children.
I believe that Facebook must continue to play a role in finding answers to those questions — not by acting alone in Silicon Valley, but by working with people, organizations, governments and regulators around the world to ensure that technology is a force for good.
Others were less convinced about Clegg's credentials:
Others noted that Facebook has tried before to convince American conservatives that it is a neutral platform, only to hire Clegg:
Nigel Farage, former leader of the right-wing U.K. Independence Party, came out against the decision:
Others, like the director of the "People's Vote" campaign to hold a second Brexit referendum, were pleased that Clegg would play a role at the social media giant:
Some referenced Clegg's belief that he could influence the blue-colored Conservatives in government:
Clegg's deal-making abilities were a regular feature in reactions:
Others suggested, tongue-in-cheek, that Clegg took the deal to get his own back:
The coalition government famously tripled the price of university tuition to £9,000 ($11,681) per year, despite the Lib Dems promising to abolish fees:
Others noted Clegg hasn't always been so warm to Facebook:
Perhaps the pair have more in common than meets the eye:
Whether Clegg can succeed in changing a blue-colored juggernaut on second try remains to be seen.