The Best Horror Movies on Netflix in October: Global Edition
Because fear transcends language itself.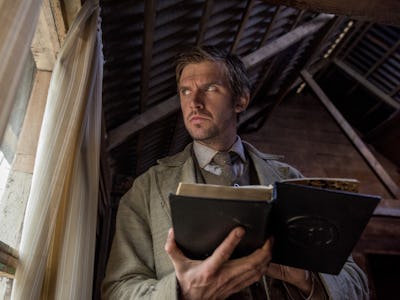 Netflix
Now that video-on-demand has imbued us with the power to scare ourselves at any hour of the day, people are taking full advantage of the opportunity.
In October, global viewership of horror movies jumps by 50 percent on average, according to aggregated Netflix data from 2014-2017, provide to Inverse. Horror has certainly infected our minds, our dreams, and our screens.
The Rise of Horror Movies
Horror movies haven't always capture so much of our attention (or nightmares). As the movie industry has exploded from making 4,000 feature films a year in 2000 to about 12,600 in 2016, the world has developed an appetite for horror. Since 1997, the genre has creeped up from representing 4.3 percent to 12.4 percent of movies made globally, knocking down romance and crime movies, according to industry analyst Stephen Follows.
Compared to the global average, horror as a genre is most popular to watch by moviegoers in Mexico, followed by South Korea, Russia, and North America.
Statistically, China is the least into horror — but due to censorship laws, the vast majority of horror films don't qualify to play on the big screen.
By the numbers, horror films are also relatively unpopular compared to worldwide numbers in Japan, France, and Germany, but that doesn't stop filmmakers from taking on the challenge.
Although the US produces the highest number of horror films, if we measure by proportion, Indonesia, Thailand, and Malaysia actually make the highest proportion of horror movies within their countries (The US comes fourth.)
If you're looking for specific movies to expand your repertoire, Netflix has some international suggestions for your next binge — after all, true horror transcends language itself.
Train to Busan
A father and daughter's birthday trip transforms into a high-adrenaline, zombie-ridden nightmare, leaving the two to seek the only safe city left in Korea: Busan. Drawing over 10 million to theaters, the Korean film proves that the zombie genre has plenty of life.
Veronica
This supernatural film, set in 1991 Madrid tells the story of a teenager who played with an Ouija board. You can guess how things go wrong shortly afterward. Extra creep factor? It's based on the police report of an actual crime, the "Vallecas Case."
The Wailing
This South Korean zombie-virus-meets-demonic-possession thrill ride follows a policeman's investigation of mountainous village, plagued by an unsettling illness that emerged upon a stranger's arrival. Between the tranquility of the village contrasted by frenzied gore, the policeman's daughter herself becomes a victim, laying down pressure to solve the case before the entire village suffers violent deaths.
Conjuring Spirit
The lesson of Conjuring Spirit: never accept odd gifts from your building manager. Originally titled 'Chung Cu Ma', a Vietnamese novelist and her 5-year-old son move to an old apartment building to escape the betrayal of husband. Upon receiving a music box, Lan and her son must face the evil spirit inside.
The Presence
In this found footage-style German film, three friends break into the abandoned medieval castle with a violent past. After discovering footage of paranormal activity, they soon experience the terror of the castle's malicious presence firsthand.
The Unborn Child
Based on the grisly discovery in 2010 of over 2,000 aborted fetuses hidden at a temple in Bangkok, a couple realizes their 5-year-old daughter's imaginary friend is more than a figment of her mind. The film also touches on the all-too-real horror of Thailand's sex industry as a social issue.
Ghoul
In a low time commitment, but high-payoff miniseries, the tables are turned on interrogators of a military prison in dystopian India when a new prisoner arrives. Wildly bloody, but interlaced with musings on freedom and patriotism, Ghoul draws upon Indian folklore for a satisfying scare.
Apostle
Set in 1905 on a remote island in the UK, Apostle documents a former missionary's chaotic voyage to rescue his sister from a blood-obsessed cult. Mutilation, branding, fire — the squeamish should note that this period horror holds nothing back.