Tesla's Weird Secret Reward Lets People Launch a Time Capsule Into Space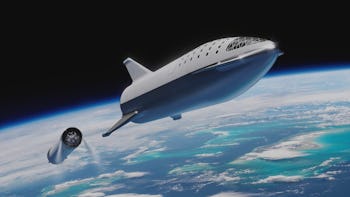 SpaceX/Instagram
Tesla is rewarding its most loyal customers with a chance to send their payload into space, launching a personal time capsule into the deepest reaches of space for an alien race to discover millions of years into the future. The offer comes as part of the company's referral program, which rewards buyers for getting other people to buy a Tesla.
The reward is the fifth of Tesla's "secret" rewards, discovered by a Twitter user called "teslainventory." Details are scarce, but it comes just after Tesla started its new referral scheme that starts October 5 and runs til December 10. As part of the new program, one of the other non-secret rewards for referring one buyer is the option to send a laser-etched photo into deep space. CEO Elon Musk told Twitter users that the photo reward will accept "any pic you want," with one user asking if they can submit the "dick butt" meme. While Musk also heads up SpaceX, Tesla did not confirm to Inverse at the time whether SpaceX was facilitating the reward.
See more: Tesla Will Launch Your Laser-Etched Photos Into Space for Aliens to Find
The secret levels offer legendary prizes to a select few participants. Electrek notes that the previous four such levels gave users a discount on the second-generation Roadster (with a starting price of $200,000), a chance to drive an electric boring machine (with The Boring Company digging a test tunnel at the SpaceX headquarters), the chance to watch a SpaceX rocket launch, and an experience racing the Tesla Semi all-electric truck due for launch next year.
Musk is known for his less-than-conventional approach to spaceflight. In February, he made headlines when SpaceX launched the Falcon Heavy for the first time. The world's most powerful rocket carried Musk's personal first-generation Roadster into outer space, with a "Starman" in the driver's seat watching the world go past as David Bowie's "Space Oddity" plays through the in-car speaker system. A small sign on the dashboard says "Don't Panic," a reference to Hitchhikers' Guide to the Galaxy. Musk joked with reporters that the car "may be discovered by some future alien race thinking what the heck, what were these guys doing? Did they worship this car?"
More details about Tesla's new rewards scheme, and how the company plans to send customer items into space, may arrive closer to the end of this year. The company is expected to ask for image submissions in December, at which stage it may release further details about the project.