Paywalls Are a "Tourniquet" for Online News, Says Author of 'The Internet Trap'
"The costs of paywalls are large, even if they are paid on the installment plan."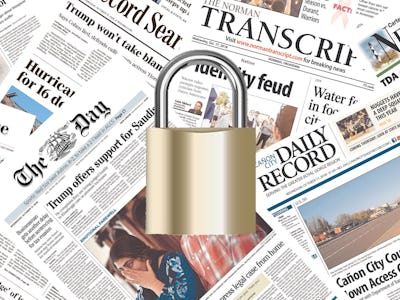 Inverse photo illustration
From a digital Wild West to landscape of walled gardens, the internet has diverged far from its original incarnation of decentralized freedom in the last twenty years. One area where the the change has been clearest is with online news. Outlets that once eschewed websites now see them as their entire future. For many outlets that rely on original reporting — which is not cheap — paywalls have gone up to ensure that original journalism is still funded. Meanwhile, Google and Facebook are where many get their news, for free, as local news outlets continue to suffer.
In the new book The Internet Trap: How the Digital Economy Builds Monopolies and Undermines Democracy, Matthew Hindman, a professor of media and public affairs at George Washington University, tracks the ascent of Google and Facebook, and explains the hurdles other organizations — like local news — face not just to exist, but to grow in a space where the cards aren't in their favor.
Below is an excerpt from The Internet Trap, published last month by Princeton University Press.
The Problem with Paywalls
Perhaps no "solution" in recent years has been as celebrated as the erection of paywalls. Yet the benefits of paywalls are often exaggerated, and their true costs overlooked.
Many have claimed that newspapers' failure to erect paywalls in the early years of the web was their "original sin," the originating mistake of the newspaper crisis. In fact, paywalls were tried repeatedly, by a host of different news organizations, from the mid-1990s onward.
Financial publications, such as the Wall Street Journal and the Financial Times, quickly had success with paywalled content. But for most other newspapers, experience after experience showed that paywalls were a failure: they reduced web traffic and online advertising to a single-digit percentage of previous levels, while generating little new revenue.
These longtime negative assessments of paywalls changed dramatically in 2011, when the New York Times implemented a so-called metered pay- wall. Visitors to the Times would be given a set number of articles a month, and when that quota was reached, individuals would be asked to subscribe. The result was widely heralded as a success. By the end of 2013, approximately 30 percent of the Times subscription revenue — and 10 percent of total revenue — came from digital subscriptions. The perceived success of the Times led to a rush by other newspapers to implement similar systems. By 2014 more than 450 U.S. dailies had implemented a metered paywall. It's easy to understand why "soft" paywalls have outperformed previous versions. As the traffic numbers discussed earlier suggest, most newspaper site-users visit just a few times a month. More than 90 percent of site visitors never hit the paywall in the first place. Metered paywalls thus ask for subscription revenue only from heavier users. Paywalls allow newspapers to perform price discrimination — to figure out which users are most willing to pay, and then ask that group alone to pony up.
But while metered paywalls provide a better series of trade-offs than hard paywalls, they are not a free lunch. The biggest cost of paywalls lies in lower traffic. This lost traffic doesn't manifest as a one-time drop. More insidiously, it comes in the form of permanently lower traffic growth. This missing audience may look small at first, but the audience gap compounds over time. Even the **Times** itself — as its leaked innovation report noted— for years saw a steady, paywall-driven traffic decline. The 2016 election season finally saw significant traffic growth, though as of this writing it is too early to tell whether this boost will be sustained. Its digital subscription growth, though, has been fast enough to keep up with falling print revenue.
No local newspaper, however, has enjoyed anything like the Times' digital success. The Times owns the nation's best news brand, and it produces an enormous, varied, and uniformly high-quality bundle of content. The Bezos-era Washington Post has been able to pull off a similar feat, improving its digital product and winning big jumps in digital subscribers. But the success of these national brands is hardly representative. A more typical case is Gannett, the nation's largest print newspaper chain. In 2013, after adopting paywalls at all eighty of its community newspapers, Gannett reported that it had signed up only a paltry 46,000 subscribers. Digital-only subscribers have finally started to increase, with Gannett reporting 341,000 digital subscribers added as part of the "Trump bump." But because so many of these digital subscriptions are steeply discounted, and because of rapid erosion in its print business, Gannett still saw a nearly 9 percent year-over-year drop in revenue per newspaper. Few, if any, of its properties are viable as digital-only enterprises without laying off most of their already-depleted current staff.
Paywalls, then, are not in themselves a solution to what ails local news- papers. Thus far paywalls have acted as a tourniquet, slowing the bleeding of revenue away from the newspaper's core print business. That does not mean they are, on balance, a bad idea — after all, sometimes a tourniquet is a medical necessity. But the costs of paywalls are large, even if they are paid on the installment plan.
Excerpted from The Internet Trap: How the Digital Economy Builds Monopolies and Undermines Democracy by Matthew Hindman. Copyright © 2018. Published by Princeton University Press
The Internet Trap: How the Digital Economy Builds Monopolies and Undermines Democracy is available now.